Enjoy your Tampa, St. Petersburg or Clearwater deep sea fishing adventure in style. YACHTFISH only has newer model vessels equipped with state-of-the-art safety equipment, electronics and fishing gear. The fleet is updated every two years and we maintain our equipment to be in "like new" condition.
Offshore Equipment: The new Invincible custom 33 is powered by twin 300 Yamaha four stroke engines and has all the extras for serious deep sea fishing. The Statement custom 38 is powered by triple 300 Mercury four stroke engines and likes to run fast to all the best offshore fishing spots. Both boats will provide the speed, reliability, comfort and safety needed to get offshore quickly and back to port safely with your boatload of fish.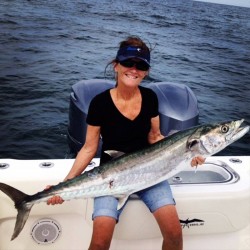 Deep Sea Fishing in Tampa
YACHTFISH has more than 25 years of experience with offshore fishing in the Tampa Bay area. Our seasoned captains will take you to all the best spots during your deep sea charter.
The Gulf of Mexico is renowned for its wide variety of fishing options such as gag grouper, black grouper, red grouper, amberjack, pompano, mahi-mahi, wahoo, kingfish, red snapper, hog snapper and tuna. Swordfish, sailfish and marlin can also be found in the deeper waters. The YACHTFISH crew has meticulously recorded hundreds of secret spots over 25 years of deep sea fishing in the Gulf of Mexico. In other words, we have finding fish down to a science. When you choose our fishing charters, you will fish reefs, wrecks, hard bottom and more until you get your fill. The sound of line screaming off your reel will be music to your ears.
Looking for some real action to double the rod over and take you to your knees? Try deep sea fishing for amberjack. They are often found congregating in schools around wrecks and reefs. These monsters, also known as reef donkeys, will test your endurance and strength for sure. It will be well worth the fight! You really want to test your back muscles? The cagey and infamous Goliath Grouper can be up to 800 pounds and 8 feet long. It could definitely be your "fish story" of a lifetime.
Interested in something a tad less strenuous? Grouper and snapper are favorite targets to put up a great fight and end up on your dinner table. They are found almost anywhere there is hard bottom, and they are very plentiful. Mahi-mahi, also known as dorado, are found a little farther offshore around weed lines and will always put on a colorful show jumping out of the water.
Your YACHTFISH crew is available for extended hours when a little deeper fishing or just plain more fishing is desired. Break up your day with a visit to Egmont Key or enjoy a waterside dining stop along the Intracoastal Waterway. Also, cleaning and icing your catch is always included with our fishing charters.
YACHTFISH has the perfect fleet with the latest technology and safety equipment available. Your knowledgeable crew will make your Tampa Bay deep sea charter smooth, dry, safe and enjoyable.
Offshore trips are priced individually according to each Client's requirements. Please review our frequently asked questions and let us know if you have any more. Reserve your fishing charter today!
Duration:
6 and 8 hour options with extended hours available for longer trips
Includes:
Ice, water, all fishing tackle, bait and
fish cleaning
What to bring:
A camera, sunscreen, hat, sunglasses, food, drinks and appropriate clothing.
Interested in booking a Deep Sea / Offshore Fishing Charter?
Call +1 727.433.4200 or fill out the form below to check availability.