Fish You'll Catch on Offshore Charters
Why Our Customers Choose us Time After Time






Deep Sea Fishing Clearwater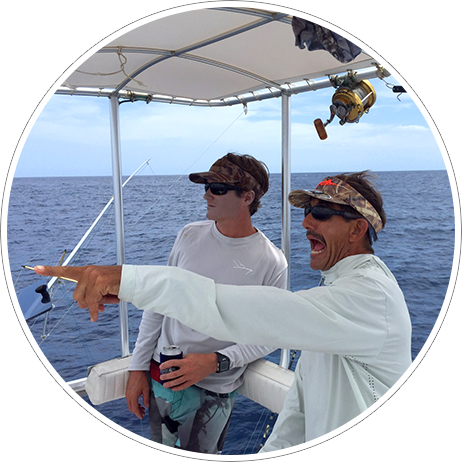 You'll love deep sea fishing in Clearwater with YACHTFISH
If you've never experienced deep sea fishing in Clearwater with YACHTFISH, it's time to enjoy a fishing trip like never before. Our offshore fishing trips are designed to provide you with a one-of-a-kind deep sea fishing experience you aren't likely to forget any time soon. With the best boats in our fleet, a knowledgeable crew and high-quality fishing gear, YACHTFISH has the perfect offshore charter fishing adventure for you.
Why should you choose YACHTFISH for your offshore fishing adventure?
Many fishermen and women wait their whole lives to experience a deep sea fishing experience like the one YACHTFISH can provide, and you won't find anything like it with any other charter fishing provider. Our experienced crew knows the ins and outs of Clearwater deep sea fishing, and when you combine our knowledge with the latest and most advanced electronics and fishing equipment, it's a recipe for a successful, memorable fishing trip. Every deep sea fishing trip comes with water,
ice, live bait, fishing tackle, licenses and fish cleaning.
Book our deep sea fishing charter for your trip today!
Are you ready to experience a one-of-a-kind offshore fishing adventure in Clearwater? If so, there's no better charter provider to choose from than YACHTFISH. We specialize in providing our clients with the fishing experience of their dreams, and we have six-hour and eight-hour options for you to choose from. Take the first step towards enjoying the ultimate deep sea fishing adventure in Clearwater by booking your trip with YACHTFISH today.

Enjoy your Clearwater inshore fishing adventure in style. YACHTFISH only has newer model vessels equipped with state-of-the-art safety equipment, electronics and fishing gear. The fleet is updated every two years and we maintain our equipment to be in "like new" condition.
Offshore Equipment: The new Invincible custom 33 is powered by twin 300 Yamaha four stroke engines and has all the extras for serious deep sea fishing. The Statement custom 38 is powered by triple 300 Mercury four stroke engines and likes to run fast to all the best offshore fishing spots. Both boats will provide the speed, reliability, comfort, and safety needed to get offshore quickly and back to port safely with your boatload of fish.
YACHTFISH has the perfect fleet with the latest technology and safety equipment available. Your knowledgeable crew will make your Tampa Bay deep sea charter smooth, dry, safe, and enjoyable.
Offshore trips are priced individually according to each client's requirements. Please review our Frequently Asked Questions and ask us if you have any more. Reserve your fishing charter today!
Duration:
6 and 8 hour options with extended hours available for longer trips
Includes:
Ice, water, all fishing tackle, bait and
fish cleaning
What to bring:
A camera, sunscreen, hat, sunglasses, food, drinks and appropriate clothing.
Offshore Fishing – The Red Grouper Bite is HOT, HOT, HOT!
Charter Options
Inshore Fishing Charters
Offshore Fishing Charters
---
What Clients are Saying
Tampa Bay Fishing at its finest!
Tarpon season is finally here. The Silver Kings are rolling into Tampa Bay for their annual visit. It's a thrill just to see one, but wait until you get one on your line! Tarpon hit hard and fast and can take you to your knees. Head out with Captain Matt Douglas and you will not be disappointed. Book your Tampa Bay Fishing charter now with Captain Matt Douglas.
Robert Wilson