Tampa Bay

Booze Cruise
Cruising Florida's coastline began over 150 years ago and has exploded into one of the most popular and relaxing adventures for people from all over the world. From Fishing excursions to wildlife tours and island hopping, Florida visitors have been enjoying their little slice of paradise. We are the best private party boat company in Tampa and we've got you covered with a fleet of boats equipped for any adventure. We promise to help customize your Booze Cruise with exactly what you want.
Imagine a day or early evening private boat cruise with your friends and family. Add some booze to the cruise, and you have the perfect relaxing day ahead. Florida's climate creates the ideal setting for a Booze Cruise on any given day. Temperatures always stay in a perfectly warm sweet spot, with cool refreshing evenings to boot.
The city becomes alive at sunset when you get astonishing views of the downtown Tampa skyline. But even better than that, you get to party on a boat! With good music playing, drinks, and laughter, the fun never stops on the Tampa Bay Booze Cruise. If you prefer a daytime Booze Cruise, you likely will see some stunning wildlife like dolphins, manatees, and waterfowl.
Our Tampa Bay Booze Cruises are the best way to relax and enjoy a fun-filled private cruise with no stress and endless enjoyment while out on the water. You'll get breathtaking views of the beautiful coastlines and crystal clear waters, followed by a marvelous sunset. Last but not least, our crews provide unparalleled service to give you an unforgettable experience!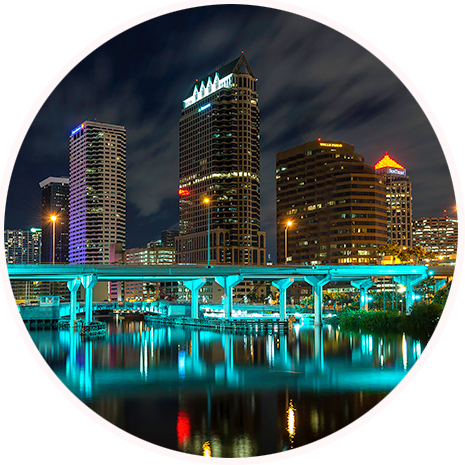 Customize

Your Private Tampa Bay Booze Cruise
Customize Your Experience
When you choose our Booze Cruise, you can completely customize the fun! We are here to help you plan the perfect Booze Cruise just for you. Just let us know.
Here's What To Expect From Your Tampa Bay Booze Cruise
Jam Out To Your Favorite Tracks
We all know music is vital to setting the mood for a great party. That's why we've accumulated the ultimate party playlists to energize the party. From today's top billboard hits to throwbacks and classic hits, we ensure the vibes are on point. Once on board, we'll play the right tunes you can get down with, blasting from high-quality speakers. If you have a particular playlist you love, just let us know, and we can hook you up to our top-of-the-line Bluetooth system.
Bring Your Own Booze (BYOB) and Food
Bring your favorite drinks and food, and we'll take care of the rest. Or, choose our popular waterfront bar-hopping and dining Booze Cruise with no worries about bringing food and drinks. We will always provide water and ice. Our crew's top priority is for everyone to have fun and enjoy the ride!
Some of our Most Popular Booze Cruises
Bachelor and Bachelorette Parties, Birthday Parties
Anniversaries, Graduations, Waterfront Real Estate Tours
Island and Beach Hopping
Sunset Tours
Snorkeling, Shelling
Dolphin/Manatee/Waterfowl Tours
Bar hopping and dining in Tampa Bay and the Intercoastal Waterway
What Will You See on

Your Booze Cruise?

As we venture out, you'll get to see some beautiful landmarks like:





The St. Petersburg Pier with loaded with shops, restaurants, and bars. We can drop anchor outside your favorite pub and run the crew in for a round of shots!
You might even get the added bonus of spotting amazing wildlife creatures indigenous to the area, like Dolphins, Manatees, and of course the Pelicans. You'll have a fantastic opportunity to sightsee from any of our convenient locations. For example, the St. Petersburg Municipal Area is filled with culture, historical landmarks, shops, galleries, bars, and restaurants.
We offer Booze Cruises at various times throughout the day. Contact us to plan yours.
Don't hesitate to reach out if there's anything we should have covered. We are happy to accommodate your Booze Cruise specifications.
YACHTFISH, The Best Cruise Team
We genuinely love bringing people together to create lifetime memories. Our Tampa Bay Booze Cruises are a perfect choice for achieving those memories.
YACHTFISH is surrounded by Florida's finest nature spots, beaches, and cultural districts. We offer the nation's best coastal fishing charters, Dolphin tours, Manatee tours, Booze Cruises, and more. When you're looking for a Tampa Bay Booze Cruise, YACHTFISH has you covered!
How Much Does a Booze Cruise Cost?
2 hour 1/4 day trip
4 hour 1/2 day trip
6 hour 3/4 day trip
8 hour full day trip
2hrs $350
4hrs $550
6hrs $750
8hrs $1000
Rates are for up to 2 people and $50 for each additional person

A 4% convenience fee will be applied to all credit/debit transactions.

☺Gratuity is not included