St Pete Beach Manatee Tours
by YACHTFISH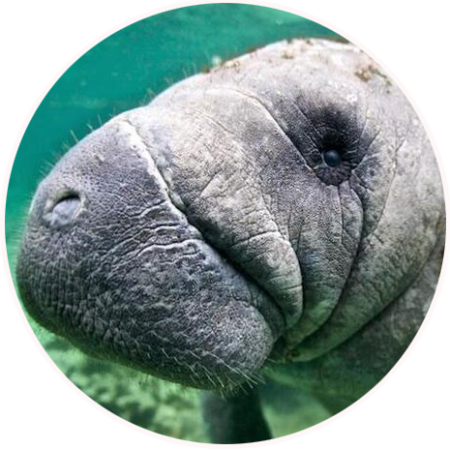 St Pete Beach Manatee tours allow you to embark on a scenic journey to find the cutest animals in the sea – Manatees! Despite their large size and stubby snouts, nobody can resist the cuteness and cuddliness of a Manatee, also known as a sea cow.
We will cruise down miles of gleaming waters and stunning nature views hunting for Manatees on this marvelous, once-in-a-lifetime outdoor adventure. Most importantly, our tours do not bother or harm any Manatees.
You might also get lucky and catch sight of other wondrous wildlife like Dolphins. We have expert guides with in-depth knowledge of aquatic life and the surrounding areas. They will guide you on this unforgettable tour, sharing fun facts and information about Manatees. You also get to bask in the sun or sunset while enjoying the most incredible Manatee tour in Tampa.
Florida's Outdoor Adventure Capital
At the heart of Florida's gulf coast, St Pete Beach boasts perfect temperatures, sunshine, and a calm ocean breeze all year. That's why it's the perfect place for visitors anytime – it's never too hot or too cold.
St Pete Beach Manatee tours are an extraordinary opportunity you want to take advantage of! And Manatee tours are only available seasonally. The peak season for observing Manatees is November through April, and the local Manatee population swells to its largest size between December and February. So plan your tour now if you're ready for this unforgettable adventure. Your friends and family will thank you!
Fun Facts About Manatees
There are three species of these aquatic herbivores, aka sea cows. According to the IUCN Red List of Threatened Species, the Amazonian, West Indian, and West African Manatees are all considered vulnerable and have a high risk of wild extinction. Boat collisions, hunting, habitat destruction, and toxic red tides are the main factors endangering Manatees. Here are some fun facts about the endearing yet endangered Manatees:
They live in coastal areas and feed on seagrass, leaves, and algae. They spend almost half of every day eating up to 10% of their body weight (average 1200 lbs) in plants and greenery.
West Indian and West African Manatees must live in warm water. While they look bulky, their large bodies mainly consist of the stomach and intestines. As a result, they have low metabolic rates and minimal fat protection from cold water. They find their way to warm water during the colder months.
They go to the surface to breathe every 3-5 minutes, but they can stay under for up to 20 minutes. That's because when they take a breath, they replace about 90% of their lungs, while humans only use 10%.
Like their elephant relatives, Manatees continuously replace their teeth throughout their lives. The older teeth fall out in front as new teeth grow in.
Christopher Columbus' claims of seeing mermaids having an encounter with Manatees.
Manatees have smooth brains (unlike a human brain that has cortical folds. They also have the lowest brain-to-body size ratio of any mammal.
Females carry a baby Manatee every 2-5 years. Baby Manatees start eating plants when they are a few weeks old.
Most mammals have seven vertebrae, but manatees only have six.
Manatees don't have natural predators in the wild.
They are buoyant and have horizontal diaphragms, allowing them to control buoyancy with their breathing. Their average speed is 3-5 miles per hour.
What Can I Expect On A St Pete Beach Manatee Tour?
While out on a St Pete Beach Manatee Tour, you might get the added bonus of spotting other amazing wildlife creatures indigenous to the area, like Dolphins or sea turtles. In addition, you'll have a fantastic opportunity to sightsee in St. Petersburg, Tampa, St. Petersburg, or Clearwater. For example, The new St. Petersburg Pier is filled with culture, historical landmarks, shops, galleries, bars, and restaurants.
Since our locations are all conveniently located in prime spots throughout Tampa Bay, you'll find magnificent scenery in any direction we go. As we venture out, you might get to see some beautiful landmarks in Florida like:
You can visit these attractions before we pick you up at the marina or after a fun day out with the Manatees. Straub Park at the St. Petersburg Pier has tons of fun attractions like:
Dali Museum
Museum of Fine Arts
St. Petersburg Museum of History
Vinoy Hotel
Vinoy Park
Our guests love to eat and drink at nearby restaurants like Fresco's Waterfront Bistro and Sea Hags Bar & Grill. Whichever location you choose to start or finish, there will be endless options for drinking, dining, and entertainment nearby. If you decide to plan one of our fishing excursions, they'll even cook your fresh catch for you!
Contact YACHTFISH Today to Schedule a St Pete Beach Manatee Tour
We have several convenient locations throughout Tampa Bay including St. Petersburg, St. Pete Beach, and Clearwater. St Pete Beach is where you get to immerse yourself outdoors and be one with nature. It's home to the best coastal and deep-sea fishing tours. In addition, the Tampa Bay area is one of the most popular destinations for Dolphin Tours, Manatee Tours, and Booze Cruises in the US. The adventures last all year long!
The Weedon Island preserve on the west side of Tampa Bay is a 3,190-acre aquatic upland ecosystem. The island supports a diverse population of birds and animals. It also is the spawning center for many fish that swim in St Pete Beach and the Gulf of Mexico.
For the liveliest and most entertaining Manatee Tours in Tampa, Clearwater, St. Pete Beach, or St. Petersburg, YACHTFISH is the way to go.
We have over 30 years of experience and top-of-the-line equipment to get you sightseeing our cuddly aquatic friends. Additionally, the YACHTFISH team guarantees an incredible experience.
So whether you live in St Pete Beach or are visiting St Pete Beach, CALL or TEXT (727) 433-4200 to schedule your St Pete Beach Manatee Tour today!
How Much Does a Manatee Tour Cost?
2 hour 1/4 day trip
4 hour 1/2 day trip
6 hour 3/4 day trip
8 hour full day trip
2hrs $350
4hrs $550
6hrs $750
8hrs $1000
Rates are for up to 2 people and $50 for each additional person

A 4% convenience fee will be applied to all credit/debit transactions.

☺Gratuity is not included