Florida Shark Fishing Charters
by YACHTFISH
Are you ready for the ultimate adrenaline rush?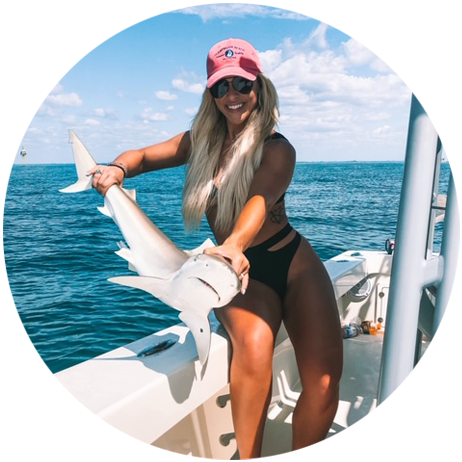 You've come to the right place for the best Shark fishing charter in Florida. Tampa, St. Petersburg and Clearwater are collectively known as the Tampa Bay Area and are home to an abundant population of many shark species in and around Tampa Bay and the Gulf of Mexico. YACHTFISH Shark Fishing Charters has over 30 years' experience catching Sharks of all varieties in the Gulf of Mexico, Atlantic, Pacific and throughout Central America and the Caribbean. Based in St. Petersburg, Florida, YACHTFISH happens to be smack dab in the middle of some of the best inshore, nearshore and deep-sea Shark fishing in Florida. Sharks are plentiful all year round from the deep water of the Gulf of Mexico to the shallow flats in and around Tampa Bay.
More than a dozen different Shark species lurk beneath the waters of Tampa Bay and the Gulf of Mexico. Black Tips, Spinners, Hammerheads, Nurse, Lemons, Bonnet Heads, Bull sharks and more call the west coast of Florida home. Have you heard about the legendary Hammerhead Old Hitler that hangs out on the west coast of Florida? Old Hitler has a head as wide as a pickup truck and is longer than most of the fishing boats it has been spotted from. If you are not sufficiently pumped up about your Shark fishing charter by now, research Old Hitler.
What's the best time for a Florida Shark fishing charter?
Whether it's our popular night Shark fishing charters or our daytime Shark fishing charters, the action is always in season around the Tampa Bay area and the Gulf of Mexico. You and your group will enjoy your own private Shark fishing charter. This is not a party boat with 50 – 100 other people onboard. It is only for your group and is perfect for all ages and skill levels. Shark fishing trips usually range from 4 to 6 hours and will always be tailored to meet your specific needs. Each of our Shark fishing boats are equipped with state of the art electronics and safety equipment to ensure you not only find the Sharks, but also have a safe and unforgettable trip.
What type of bait will your Captain use?
Great news on the bait front… Sharks will eat almost anything and the worse it smells, the better it is. Live or dead bait may include Mullet, Ladyfish, Bonita, Blue Runners, carcasses from filleted fish, old smelly meat, pork or poultry and everything in between.
Where will we find the Sharks?
Depending on the type of Sharks you are hunting, your Captain will provide several options that may include shallow water sight fishing, areas close to the beach in the Gulf of Mexico, the famous Sunshine Skyway bridge, ledges by shipping channels and the areas around Egmont Key and Fort Desoto Park.
YACHTFISH has numerous pickup points in the Tampa Bay area in Tampa, St. Petersburg and Clearwater to make your Shark fishing trip easily accessible. Book your Shark fishing expedition today and create memories for a lifetime. Oh, and if you catch Old Hitler, you will instantly become world famous.
We are
THE TOP RATED Fishing Charter!
G

O

O

G

L

E

REVIEWS from our happy Guests
Customers Choose us Time After Time
Take the first step towards experiencing Florida Shark Fishing Charters of a lifetime by booking your trip with YACHTFISH today. CALL or TEXT (727) 433-4200 now!

The YACHTFISH Fleet
Enjoy your Florida Fishing Charters in style. YACHTFISH only has newer model vessels equipped with state-of-the-art safety equipment, electronics, and fishing gear. The fleet is updated every few years and we maintain our equipment to be in "like new" condition.
Inshore and Near-Shore Equipment: The three Avenger custom 25 bay boats with 300 horsepower each will skip across the flats effortlessly and handle choppy deeper water with ease. They are the perfect boat that is designed for inshore and near-shore charters.
Deep-Sea Equipment: The Invincible custom 33 is powered by twin 300 Yamaha four stroke engines and has all the extras for serious deep-sea fishing. The Sea Vee 32 is a diesel workhorse for offshore fishing in the Gulf of Mexico and has an extremely smooth ride due to the location of the inboard engine. The CABO 40 Express is powered with twin 800 Mann diesels and boasts a 15′ 9″ beam with plenty of comfortable seating and all the comforts of home in the air-conditioned cabin. All three boats will provide the speed, reliability, comfort, and safety needed to get deep-sea fishing quickly and back to port safely with your boatload of fish.
Avenger
25
Avenger
25
Avenger
25
SeaVee
32
Invincible
33
Cabo
40
Avenger
25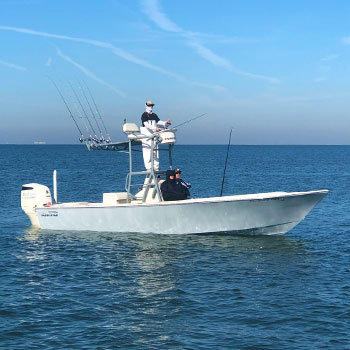 Avenger
25
Avenger
25
SeaVee
32
Invincible
33
Cabo
40

We will customize a charter fishing trip just for you! Whether it's hardcore fishing, breaking up the day with waterside dining, or exploring Egmont Key and Fort Desoto, we can do it.
Below are the base rates for our daily Inshore Fishing Charters. Deep Sea Fishing Charters are priced individually. Please review the frequently asked questions and let us know if you have any more. Reserve your fishing trip today!
4 hour 1/2 day trip
6 hour 3/4 day trip
8 hour full day trip
4hrs $650
6hrs $850
8hrs $1100
Rates are for up to 2 people and $50 for each additional person

A 4% convenience fee will be applied to all credit/debit transactions.

☺Gratuity is not included