St. Petersburg Fishing Charters
by YACHTFISH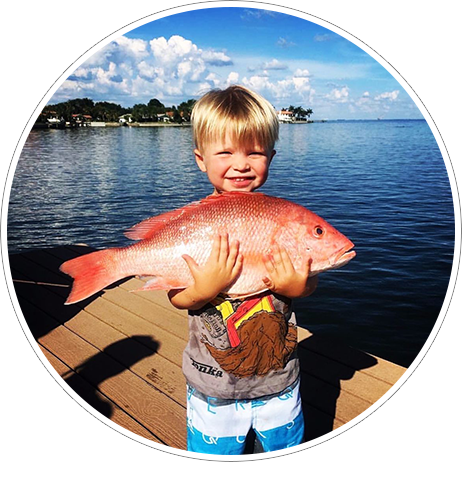 Are you ready to take your St. Petersburg Fishing Charters to the next level?
If so, you've come to the right place. We are YACHTFISH, and we are your premier source for St. Petersburg Fishing Charters. Whether you're looking for a four hour Inshore Fishing Charter or an all-day eight-hour Deep Sea Fishing excursion, YACHTFISH has you covered. No other company provides a fishing charter experience like YACHTFISH. With over 25 years experience, we guarantee you'll catch fish every time.
Inshore Fishing Charters
If you're looking for an action-packed day on the water, let YACHTFISH take you on the ultimate St. Petersburg Inshore Fishing Charter.
St. Petersburg is the year round home to one of the best light tackle fishing destinations in the country. The sub-tropical climate and miles of unspoiled mangrove estuaries and wetlands provide optimal breeding grounds for snook, redfish, mangrove snapper, flounder, trout, cobia and more. The 3,190-acre Weedon Island preserve on the west side of Tampa Bay is an aquatic upland ecosystem supporting a diverse population of bird rookeries and animals. It's also the spawning grounds for many of the inshore species of fish found in Tampa Bay. Mackerel, kingfish, grouper and tarpon also move into the bay from the Gulf of Mexico and can be found around shipping channels, artificial reefs and deeper water. St. Petersburg is world reknown for tarpon fishing in the spring and summer.
Deep Sea Fishing Charters
When you want the best St. Petersburg Deep Sea Fishing Charter experience, you want YACHTFISH.
The Gulf of Mexico is renowned for its wide variety of fishing options such as gag grouper, black grouper, red grouper, amberjack, pompano, mahi-mahi, wahoo, kingfish, red snapper, hog snapper and tuna. Swordfish, sailfish and marlin can also be found in the deeper waters. The YACHTFISH crew has meticulously recorded hundreds of secret spots over 25 years of deep sea fishing in the Gulf of Mexico. In other words, we have finding fish down to a science. When you choose our fishing charters, you will fish reefs, wrecks, hard bottom and more until you get your fill. The sound of line screaming off your reel will be music to your ears.
Why choose YACHTFISH for your St. Petersburg Fishing Charters?
At YACHTFISH, we know there are many other companies you could consider for your St. Petersburg Fishing Charters, but if you want the best, the decision is easy. Not only does our knowledgeable crew have over 25 years of experience in providing fishing adventures, we also offer a fleet of top-tier boats, state-of-the-art equipment, high-quality electronics and a dedication to providing you with the trip of your dreams. We'll customize a St. Petersburg Fishing Charter just for you!
Book your St. Petersburg Fishing Charters with YACHTFISH!
Don't waste your time or money on any other St. Petersburg Fishing Charters. Have the fishing experience you've always wanted with YACHTFISH. Our fishing trips are perfect for fishermen and women of all skill levels, and with YACHTFISH, you're guaranteed to catch fish every time!