St Pete Beach Dolphin Tours
by YACHTFISH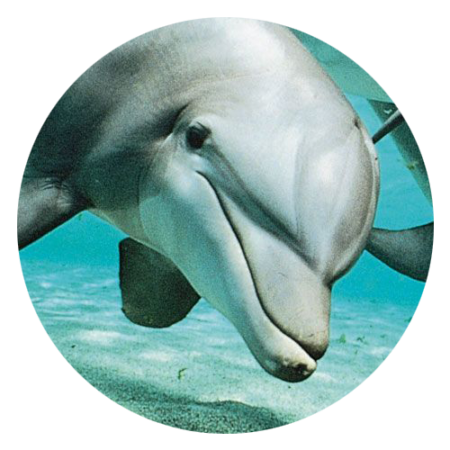 With St Pete Beach Dolphin Tours, you can embark on a scenic journey to find the ocean's most joyful animal – Dolphins. From Tampa Bay to the gleaming turquoise waters of the Gulf of Mexico, enjoy incredible views all along the way! Dolphin sightings are guaranteed on our sensational boat tours.
With St Pete Beach Dolphin Tours, you can get up close and personal with the Dolphins. You'll have a fun-filled tour while we cruise miles of Florida's prettiest waterways. Along the way, you can soak in the breathtaking picturesque diversity, from a boardwalk to the city center and crystal clear waters of the Gulf of Mexico.
Not only will you see the cheerful Dolphins, but you will also spot other beautiful wildlife! Our expert guides have intimate knowledge of the water, animals, fish and the surrounding scenic lands. They will guide you on a once-in-a-lifetime experience, sharing fun facts and information. Meanwhile, you'll be basking in the sun while soaking in the most stunning views of Dolphins playing in their natural habitat.
Florida's Favorite Dolphin
Dolphins are incredible creatures. They have social skills and are highly intelligent, agile, happy, and playful. And they even share emotional similarities with humans.
St Pete Beach Dolphin tours are geared toward finding Florida's favorite Dolphin – the Bottlenose Dolphin. It's the most common and well-known species of the Dolphin family. They usually live and travel in large groups that range from 10-30 members. Sometimes, you might even find them in a group as large as 1,000.
Fun Facts About the Bottlenose Dolphin
Bottlenose Dolphins grow up to 13 feet long and 1,300 lbs.
The average lifespan of a Bottlenose Dolphin is 40 to 60 years.
Females give birth to a calf every 3 to 6 years, after a 12-month gestational period.
They travel alone or in groups, with the average size being 12. However, some herds with hundreds of dolphins have been spotted before.
They swim at about 12 miles per hour.
Bottlenose Dolphins eat about 13-15 lbs of food per day, much of their diet consisting of fish, squid, shrimp, and more.
They develop unique, individualized whistles to communicate with other dolphins.
The Heart of Florida
St Pete Beach is the heart of Florida's gulf coast with a calm ocean breeze, crystal clear waters, and boasting sunshine all year. Additionally, St Pete Beach's comfortable temperatures make it the perfect place for visitors any time of the year.
So embark on a St Pete Beach Dolphin Tour with your friends and family to enjoy the beautiful Gulf of Mexico and the back inshore bays. If it's the right season, we could even cruise to grass flats to look for grazing Manatees!
You will want to take advantage of this extraordinary opportunity! St Pete Beach Dolphin tours are an experience you will never forget.
What Can I Expect On A St Pete Beach Dolphin Tour?
We'll start by picking you up from one of our convenient locations in Tampa, St. Pete Beach, St. Petersburg, and Clearwater Beach. Our St. Petersburg location is just a few steps away from Straub Park, surrounded by many fun destinations before the St Pete Beach Dolphin Tour. You'll have options to visit attractions like:
St. Petersburg Museum of History
Since we're located in the heart of Tampa Bay, you'll find magnificent scenery in any direction we go. As we leave the Marina, you'll get to see some beautiful landmarks in Florida:
Weedon Island Preserve
Egmont Key
Treasure Island
Madeira Beach
Indian Shores
Indian Rocks Beach
Pass-a-Grille Beach
Afterward, you'll have a fantastic opportunity to explore the St. Petersburg Pier – filled with culture, historical landmarks, shops, galleries, bars, and restaurants. Many of our guests love to eat and drink at Fresco's Waterfront Bistro or Sea Hags Bar & Grill, depending on which Marina you choose to start and finish. If you decide to plan one of our fishing excursions, they'll even cook your fresh catch for you!
If you prefer to visit a beach before or after the Dolphin tour, we can make that happen! The Marina is just minutes away from two of the top-rated beaches in the country – Clearwater and St. Pete Beach. Or, if you prefer something a little more exciting, we can head to the Seminole Hard Rock Hotel and Casino in Tampa. You can customize your St Pete Beach Dolphin Tour to ensure an unforgettable day.
YACHTFISH St Pete Beach Dolphin Tours
St Pete Beach is a place where you get to become one with nature. In addition, we have several convenient locations in St. Petersburg, St. Pete Beach, and Clearwater.
The Tampa Bay area is home to the Best Dolphin Tours, Manatee tours, and booze cruises in the US. We are also one of the leading companies nationwide that provide coastal and deep-sea fishing excursions. The adventure lasts all year long!
The Weedon Island preserve on the west side of Tampa Bay is a 3,190-acre aquatic upland ecosystem. The island supports a diverse population of birds and animals. It also is the spawning center for many fish that swim in St Pete Beach and the Gulf of Mexico.
Whether you're looking for Tampa Bay, Clearwater, St. Pete Beach, or St. Petersburg Dolphin Tours, YACHTFISH has you covered!
We have over 30 years of experience and top-of-the-line equipment to get you to the Dolphins. The YACHTFISH team guarantees an incredible experience on your St Pete Beach Dolphin Tour.
Contact Us today to plan your St Pete Beach Dolphin Tour!
How Much Does a Dolphin Tour Cost?
2 hour 1/4 day trip
4 hour 1/2 day trip
6 hour 3/4 day trip
8 hour full day trip
2hrs $350
4hrs $550
6hrs $750
8hrs $1000
Rates are for up to 2 people and $50 for each additional person

A 4% convenience fee will be applied to all credit/debit transactions.

☺Gratuity is not included