Palm Harbor Fishing Charters Unlike Any Other!
The Experience of a Lifetime
If you're looking for a Palm Harbor Fishing Charter to take your fishing experience to the next level, then you've come to the right place! At YACHTFISH Fishing Charters, we provide unparalleled inshore and offshore charter fishing trips for anyone wanting to feel the refreshing salt air while reeling in multiple species of fish, regardless of age or skill level.
Our Founder and Captain, Matt Douglas, grew up on the waters of Tampa Bay and his intense passion for fishing has fueled the growth of YACHTFISH over the past 30 years into your premier source for Palm Harbor Fishing Charters! You won't find any other company that can provide a successful and invigorating fishing experience in Palm Harbor like YACHTFISH.
With YACHTFISH, you'll travel in smaller private groups in comfort, while also having a real advantage due to our experience and state of the art equipment. Read our reviews and get ready for the best fishing in Palm Harbor and an action-packed day on the water.
A Unique Fishing Location
The sub-tropical climate and miles of unspoiled mangrove estuaries and wetlands provide optimal breeding grounds for snook, redfish, mangrove snapper, flounder, trout, cobia and more. The 3,190-acre Weedon Island preserve on the west side of Tampa Bay is an aquatic upland ecosystem supporting a diverse population of bird rookeries and animals. It's also the spawning grounds for many of the inshore species of fish found in Tampa Bay. Mackerel, kingfish, grouper and tarpon also move into the bay from the Gulf of Mexico and can be found around shipping channels, artificial reefs and deeper water. Palm Harbor is world renowned for tarpon fishing in the spring and summer.
Palm Harbor Inshore Fishing Charters
If you're looking for an unbelievable day on the water, then let YACHTFISH take you on the ultimate Palm Harbor Inshore Fishing Charter.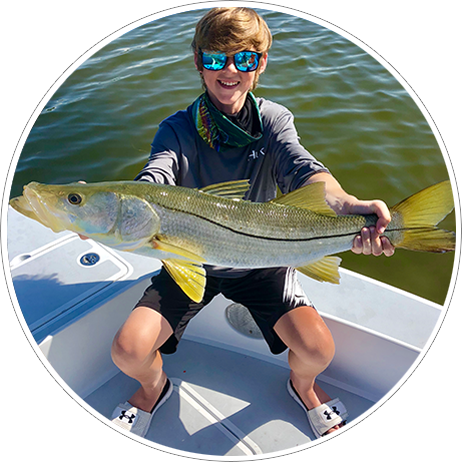 Your Palm Harbor fishing charter will begin close to the Palm Harbor shore, which is home to one of the best light tackle fishing destinations anywhere in the country. With over 1,000 miles of Florida shoreline to explore, our 30 years of experience has allowed us to pinpoint the exact locations for an inshore fishing trip that guarantees fish and fun every time!
Armed with a bait well full of live bait, your licensed and professional captain will guide you to secret spots where you'll find some of the most amazing fishing in the world. Just a mile out into the Gulf of Mexico, or back in the mangroves of Tampa Bay, you'll have a chance to get your hands on a variety of inshore fish species. Flats fishing in the shallow waters around Palm Harbor is always a popular option. Ask your captain about sight fishing the flats. Yes, it's just as it sounds. See the fish, cast, hook the fish, reel in the fish and repeat. We guarantee you'll catch fish, and we'll do whatever it takes to find them!
With fresh salt air in your lungs and a light breeze on your face, you'll enjoy the magical experience of gliding out on the waters surrounding Palm Harbor. You might even be greeted by manatees and porpoises. We have a variety of proven inshore fishing techniques that will leave you wishing the trip would never end; including trolling with live bait to provide a fast-paced adventure as you witness fish jumping above the surface desperate for a meal.
Fish You'll Catch on Our Palm Harbor Inshore Fishing Charters
We guarantee you'll catch fish!
Tarpon – Named 'The Silver Kings' of Palm Harbor's coastal areas, these migratory fish are the largest and most powerful fish you'll find close to the shoreline. The majority of tarpon will move into the coastal waters from May to July. They usually travel in groups, so they're easy to spot in the calmer inshore areas. We'll try our best not to spook them, before giving you a chance to hook a real trophy size fish!
Snook – Snook are notoriously tricky to get your hands on. While they have no teeth, their gill plate is razor sharp. However, the reward is a majestic fish that weighs between 8-12 pounds and will give you a run for your money with acrobatic leaps as the line screams off your reel.
Trout – Trout are beautiful fish and can be found in vast numbers in Palm Harbor's shallower waters. We find them in groups around our local Palm Harbor flats, providing us with plenty of rod bending action. They're as photogenic a fish as you'll ever see!
Redfish – A real favorite for Palm Harbor anglers, redfish are plentiful and easy to find just a few feet from shore. We frequently see them in mangroves, and they provide a fight that is hard to match! Look for the telltale black spots on the tail.
Snapper – We find a variety of snapper species all year round in Palm Harbor, and they are perfect for any skill range. They're also delicious!
Kingfish – Kingfish are very strong and sleek and never fail to amaze our Guests when they see them out of the water. The big ones, up to 50 pounds, are called smokers. They're the largest common mackerel in Florida, We know exactly where to find them!
Palm Harbor Deep Sea Fishing Charters
As Deep Sea fishing experiences go, Palm Harbor is home to some of the best in the world. YACHTFISH will provide you with a Anna Maria Deep Sea Fishing Charter trip you will never forget!
With over 30 years of experience and hundreds of GPS waypoints, we know which areas to fish any time of year. Whether it's slow trolling for kingfish, or bottom fishing for grouper, you will enjoy non stop action during the entire trip. You'll truly feel detached from land, as cell phone signals fade and your focus shifts to having fun on your trip of a lifetime in the vast, open Gulf of Mexico.
There are few better feelings at sea than when the anchor is set, engines are turned off, the rods are ready and your captain announces that you've arrived at "the spot." If you're inexperienced with deep sea fishing, your captain will guide you throughout the entire day. If you're more of an expert, you'll be in the company of some of the finest, most skilled charter captains in the country.
Equipt with trusted and enticing baits, you'll have the chance to hook a range of the Gulf's top predators and potentially set your eyes upon dolphins, sea turtles and sharks during your return to shore! Keep your eyes peeled for Frigatebirds. They usually hover over schools of baitfish and can lead you to the promised land.
Fish You'll Catch on Our Palm Harbor Deep Sea Fishing Charters
We guarantee you'll catch fish!
Grouper – Grouper is a popular table fish that we find when heading out from Palm Harbor. Occasionally we catch a trophy-sized Grouper that wows the entire crew. There are various species of grouper, including the distinctly photogenic red grouper.
Snapper – We find a variety of snapper species all year round in Palm Harbor, and they prove perfect for any fishing skill range, especially kids. They're also extremely tasty!
Kingfish – Kingfish sparkle and are a great catch that never fails to amaze our clients when seen in the water. They're the largest common mackerel in Florida, and our experience means we know exactly where to find them!
Tuna – When you fish in the Gulf of Mexico, one of the prized catches is a tuna. They're energetic and tough to catch, but our captains enjoy a challenge and would love to help you reel in what will feel like a bowling ball out of control.
Shark – Yes, when one strikes you will know it! Always a fun catch and quite the cardiovascular workout. Great for group pictures too.
Amberjack – We consider catching an amberjack one of the most exciting experiences you can have on our charters. Even an experienced angler will be tested to reel in these impressively strong fish. They're a great fish to put in the smoker!
Mahi – You won't find many fish more beautiful than mahi near Palm Harbor. Their vibrant colors and brilliantly characterful fins make any catch an instant trophy fish!
Palm Harbor Shark Fishing Charters
The Tampa Bay Area and specifically Palm Harbor, is home to an abundance of shark species, giving you an opportunity for a truly unique fishing experience! YACHTFISH happens to be smack dab in the middle of some of the best inshore, nearshore and deep sea shark fishing in Florida. Sharks are plentiful all year round from the deep waters of the Gulf of Mexico to the shallow flats in and around Tampa Bay.
Have you heard about the legendary Hammerhead Old Hitler that hangs out on the west coast of Florida? Old Hitler has a head as wide as a pickup truck and is longer than most of the fishing boats it has been spotted from. If you are not sufficiently pumped up about your shark fishing charter by now, research Old Hitler!
Sharks You'll Catch on Our Palm Harbor Shark Fishing Charters
Black Tips
Spinners
Hammerheads
Nurse
Lemons
Bonnet Heads
Bull sharks and more!