Welcome to YACHTFISH
Fishing Charters

Enjoy your St. Petersburg, St. Pete Beach,Tampa Bay and Clearwater Fishing Charters with YACHTFISH today
The Tampa Bay area includes Tampa, St. Petersburg, St. Pete Beach and Clearwater, Florida and is the year-round home to one of the best inshore and deep-sea fishing destinations in the country. The 3,190-acre Weedon Island preserve on the west side of Tampa Bay is an aquatic upland ecosystem supporting a diverse population of bird rookeries and animals. It also happens to be the spawning grounds for many of the fish found in Tampa Bay and the Gulf of Mexico.
Whether you're looking for Tampa Bay, Clearwater , St. Pete Beach or St. Petersburg Fishing Charters, YACHTFISH has you covered for inshore and deep-sea fishing options. You'll find snook, redfish, trout, mackerel, snapper, flounder, cobia, tarpon, tuna, amberjack, grouper, kingfish, wahoo, mahi and more. With over 25 years of experience and the equipment to get you on the fish fast, your YACHTFISH team guarantees an incredible experience and fish every time.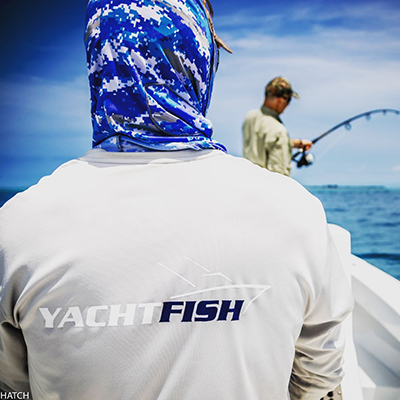 We are St Petersburg's TOP RATED Fishing Charter!

G

O

O

G

L

E

REVIEWS from our happy Guests
My friends I went out for a 6 hour trip with Yachtfish charters. Capt Pat hooked me up on my first ever tarpon! it was the best catch of my life! We will Definitely be back! Yachtfish Charters will hook you up on some HUGE FISH!
Brooke Bailey
11:38 15 Aug 22
Excellent time was had. Highly recommend. We had two young kids and the Capt and Mate were very patient and helpful. Will use again
Tony Marx
21:11 02 Jul 22
Pat and crew are the best! Not only great guides but great company. Have booked many times and will continue!
Steven Huxley
15:39 29 Jun 22
All I can say is Wow! We had a great time and amazing experience fishing with "captain Ethan" who was stellar and super chill with my kids and autistic son! We hooked a shark and even saw dolphins!! Ethan filleted our fish for us and we took it to the restaurant next door to the pier "Fresco's Waterfront Bistro" where they cooked it for us, which was such a cool part of the experience for the kids! Definitely a must for fishing if you have no experience doing so.
Michelle Sison
14:36 17 Jun 22
Me and my buddy went on an inshore fishing charter with Capt Patrick and Sam and had a blast. We caught so many fish but the grouper fishing was the highlight of the trip. We got around 10lbs of fish to bring home and it was tasty. I highly recommend! Thanks Capt Patrick and Sam!
Ryan Leonard
11:31 06 Jun 22
We had a phenomenal day of fishing with Captain Patrick. My boys and I booked the shark trip. We didn't catch just any old shark. We caught a 11 foot (critically endangered) sawfish. To say that Captain Patrick was excited would be a gross understatement. His enthusiasm for his craft and his expertise gave us an experience none of us will ever forget.
John Cherry
12:20 11 May 22
Cpt Patrick and Sam were incredible. Down to earth guys with a ton of knowledge of the waters and the fish. 10/10 would recommend them and their shark fishing charter any day of the week. Will be back again!
Joseph Glennon
00:55 23 Apr 22
Captain Garret & First-Mate Ethan were incredible guides for our family. Extremely knowledgeable & hard working, they made our experience first class. The process of booking the charter was simple; quick response time and plenty of information. Be sure to click on the exact link for the boats location, don't rely on the address. I'd recommend this fishing company to anyone and will be back in the future!
Justin Todd
18:15 06 Apr 22
We had a great time with Captian Garrett. He is an awesome guide. We will definitely book with him when we come back.
We had the BEST time with Captain Patrick and Nate. They were super fun and super knowledgeable. We caught fish from start to finish. They were super engaging. GREAT trip all around. We will definitely be back!
Missi Springer
21:48 22 Feb 22
Best day ever. What an amazing experience we had with top notch guides. Captain Garrett and Jake were very informative of the fish and observant of wildlife for us to see. They had bait on our lines at all times and helped coach us while reeling in the fish.Thank you so much and highly recommend YACHTFISH Fishing Chsrters
Linda Danielak
00:10 29 Jan 22
Such an amazing day!!! Captain Garrett and First Mate Jake were fantastic guides. Found the best fishing spots. Very knowledgeable about regional marine life. Made our trip a 'once in a life time' experience!!! Highly recommended. Thank you so much!!!
Lisa Foster
23:47 28 Jan 22
We had a blast! Captain Dan and Evan were awesome! They taught us so much and were so helpful. They kept rods loaded with bait and were so efficient. They were very friendly and kind. I would highly recommend doing a charter with them. Our only regret is that we did a half a day instead of a full day. Thanks for the memories Dan and Evan!
Evan & Weston worked hard trying and find us some game fish, time of the year, cold fronts, and everything factored into it were against them. We spent about 2 hours looking and to their credit they didn't give up. Even when things were rough going, they didn't lose faith. Knowing at this point we just wanted to catch some fish and have fun; they took us to a spot where we had a blast catching Lady fish. While it wasn't the fish we were hoping for, putting some on the hook was the key. We ended up having the time of our lives. While catching Lady fish, the dolphins rolled in. Evan & Weston showed us how to hand feed the Lady fish we were catching to the dolphins. It was an amazing experience and something my boys and I will never forget.As hunters and fisherman, ourselves, we understand that there are no guarantees. What these two young men did was made sure we enjoyed the trip and caught something. Next year we'll be back to have more fun and hope those guys are there to take us out.
Mark Handlovitch
00:18 31 Dec 21
Our crew was amazing. We tried offshore and did great, landing a 200lb shark. Caught lots of other species including snapper, hogfish, grouper, and many more. These guys run a top notch operation. I will definitely be back.
Rich Randolph
01:42 18 Nov 21
Capt Garrett and first mate Jake showed my husband 14 yr old son and me an awesome day fishing the bay today! They went above and beyond to take us to several fishing spots and teach us how to land a bunch of fish! We caught red grouper, snook, Spanish mackerel, Crevalle jack, snapper, others I can't remember and even a bonnet shark! Garrett and Jake were nice enough to stop along the way and let us watch the dolphins playing next to the boat! They are experienced, knowledgeable, courteous, friendly and overall super nice guys! I booked through Capt. Matt and he was very responsive - the process was seamless! Thank you guys for making the trip amazing! I will definitely be recommending you to friends and family!
Tamra Bower
22:50 27 Oct 21
My son and I went on an inshore with Captain Pat and Nate and offshore with Captain Dan and Evan, they were awesome. It was the greatest trip we have ever done. Caught so many different fish and brought home a lot. We would definitely book again on our next trip to St. Petersburg. Thanks for the fishing guys.
Eric Shields
02:40 29 Aug 21
Our group of 6 (4 adults and two 13 year old boys) went on a 4 hour fishing excursion with Garrett and Jake. The plan was to catch sharks but they were wise enough to know that it could be a lot of sitting and waiting for the young ones, so we fished for smaller varieties on the way out. Caught some Spanish mackerel and one other type. Then we headed out to a different spot for sharks. On the way we saw dolphins - they were playful (we were informed they were mating😉) so Garrett spent time in that area just letting us watch them for a while. There really wasn't much waiting when we started shark fishing - and we eventually ended up catching a HAMMERHEAD shark! It was a great fight and cool to see this strange creature up close!! Garrett and Jake were also very knowledgeable about the red tide that was in the area And they recommended a great lunch spot when we were done (Fresco's). These guys are the real deal. Book with YACHTFISH!!
Tama Hill
13:45 17 Jul 21
We had the best day on the water with Pat and Evan! They were fantastic, fun, engaging. I can't tell you how many hooks, lures, etc., that we went through - they didn't bat an eye at - yet another - broken line. They just quickly repaired our mistakes and made sure we had the best day ever. We went to several different fishing spots - even some difficult areas. They obviously knew what they were doing. We caught enough for a lovely dinner - - and they made sure we were comfortable and happy. When we come back - we'll book with them again and request Pat and Evan. (Thanks guys!). Y'all rock!!!
Melinda Hutchenrider
02:18 06 Jun 21
Top notch group of guides! Garret and Jake were fantastic with my two boys (7 & 9). Quality and well maintained boat and gear. These guys were very patient with my youngest and showed my oldest where to hook his bait and let him roll with it on the front deck like he was back at home again lol. We caught a heck of a lot of fish! We'll be using these guys again when we come down next year. Thank you for a great experience our first time saltwater fishing!
Derek McKnight
03:33 05 Mar 21
Theses guys are some of the best in the Business! Very knowledgeable on all types and styles of fishing. Made my 8 year old dream come true by putting us on the sharks!!!
richard brezina
01:11 02 Mar 21
Wow, what an incredible morning! Our family of 4 were looking for a chance to catch a shark so signed up with Yatchfish for a morning charter. Was a bit foggy on the way out but the guys were v professional and clearly knew the waters very well. We had the first Bonnet shark hooked and landed within 10minutes of dropping anchor, man do those things fight!! Next my son tussled with one for 5 minutes before it broke the line, then my wife and daughter each hooked and landed one. Finally my son got a second chance and that was time up, everyone with a fish landed, big smiles all around!! As we headed out we were surrounded by Manatees, what an incredible sight!! Huge fun, thank you guys, we'll be back!!!
Jerry Thompson
02:39 07 Feb 21
Great time and caught some really nice fish. Was easy to get to and they made the whole time seamless with having everything set to go and helping during our time. The two boat captains were awesome to work with and we'd definitely go back to try some more fishing. Highly recommend.
Ben Theis
02:03 17 Dec 20
I love love love this company. I used Yachtfish for the first time last year as a way to start a new family tradition when my uncle visits me. Second year now, and obviously many more to come, I couldn't be more pleased.. I can't say enough great things about how friendly the owner Matt is and he had an excellent deck mate, Evan, who went above and beyond. Matt, what an excellent shark fishing guide he is - truly talented, awesome people. Thanks for having us and we obviously will be back again and again!
Kasia Collins
21:14 09 Oct 20
Garret was an awesome guide! The equipment was great, service was excellent and the fishing was great. I will definitely be using them again!
Robert Sanchez
19:43 17 Sep 20
This was an amazing fishing trip!! Had a great time out on the water! Both guys were great and very help! Will be returning for another trip for sure!
Chauncey Mays
00:21 30 Aug 20
This is what I expect when choosing a charter. Captain Garrett and Jake are top notch. We were on fish within 15 minutes of leaving the docks. Stayed hooked up all day. They're on the water daily, know where the fish are located. I'll plan all future charters around their availability.F the rest, fish with the best #YACHTFISH
Clifton Moore
14:22 29 Jun 20
Alright let me start pat is the man he knows what he's doing he is down to earth And his partner was amazing too they know how to catch all species of fish that are here in st.pete also they are very professional they were very friendly and made me and my brother feel very comfortable we had a great time and I will come back again amazing experience and we had a lot of fun
Noah Maupins
01:48 28 Jun 20
Captain Garrett and Jake was some had so much fun definitely recommend them put us right on the fish definitely better than expected and awesome people ?
Steve Noble
19:40 26 Jun 20
Amazing trip! We will be back for years to come. Very friendly guys and super considerate to all your questions and needs. The tarpon and sharks we caught will be a lifelong memory. Thank you for the memories!!!!
Tim Schumacher
17:55 24 Jun 20
Chartered half a day inshore trip. Captain Matt did an outstanding job. He kept everyone with bait and assisting with some of our group who where not as experienced. He was friendly and knowledgeable and in general made the trip easy for us. And he flat out put us on some fish. +- 20 good size snook and a few mangrove snapper. It was a blast
T. Bayly Cornett
18:18 19 Jun 20
We go shark fishing every two months and this has been an incredible experience actually guys took care of everything put us on the fish 100% action from start to finish we actually ran over cuz we caught a large shark took his quite a while to get it in incredible incredible incredible we will be back again we are already planning and return trip
Ryder Simson
23:16 18 May 20
My kids & I had a great time shark fishing with Patrick & Jake. Really great guys. We caught a lot of bonnet heads, sting rays, red fish, and snook. They are very knowledgeable on everything we caught and were very patient with my kids (8 & 11). To end the day we snuck up on a couple of dolphins which was pretty awesome. Lots of good memories, highly recommend!
Brian Wick
03:21 24 Mar 20
Went out on a 6 hour fishing/shark trip with captain Patrick. Was a great time with my son and brother in-law. Hooked into 5 species of sharks and even had a 7 ft hammer head. Tons of snook, mackerel, sting rays, and bonnet heads. Would recommend and would book again when back in St Pete.
Nick Kraft
00:29 20 Mar 20
What a fun experience!! We got to enjoy the boat ride on one of the prettiest days of my trip in Florida!! Pat and Jake were wonderful! We caught fish for fun and we caught fish to eat!! I will be sure to tell everyone that visits my uncle or my other family in Florida that this is a must do experience!! Thank you guys for providing such a memorable experience for this Montana snow bird!! Oh and we saw dolphins and rays!! Loads of cool birds too! The 4 hour trip was just the right amount of time! Thanks again!! They also accept cash!!
Carter Coleman
20:42 14 Mar 20
Jake and Garrett were awesome! Very knowledgeable on the area these guys grew up here. Put us on the fish instantly would of paid double for this.
Had an awesome day on the water with Captain Patrick. We went out looking to land some sharks and he put us right where they were biting. Got to see plenty of manatee, dolphin, spinner sharks and cownose rays too. Great trip - - highly recommend
Evan Huang
00:23 01 Mar 20
My husband and I had a great time fishing with Pat and Logan yesterday! We caught several different species during our inshore fishing trip and also saw dolphins and manatees. Lots of great information from these guys! Also provided suggestions on how to have Fresco's cook our catch. Best fish dinner ever!!! We've already recommended YACHTFISH to others in our family. You won't be disappointed!
Kathi Miller
20:55 25 Feb 20
I really enjoyed going fishing with Garret. He was very experienced. My mom Caught over 40 fish today, and we couldn't have done it without Garret. Thanks for a great experience.
Carla Calabria
01:49 26 Nov 19
We had a great experience with YACHTFISH. We were with Captain Garrett and he took good care of us. He got to know each person's level of experience and catered to their needs. He made sure everyone had a good time and everyone caught fish. Next time we are back in the area we will definitely use YACHTFISH again.
Jeff Press
12:40 19 Oct 19
Captain was amazing, I can honestly say I've never had such a great fishing experience. Grew up fishing but never experienced such a great time on the water! I will make sure to schedule another trip just for this reason, we caught 7 species within 4 hrs! Other charters should have this high level of gratitude and service!
Dylan Foster
02:57 18 Oct 19
Capt Garrett knows his stuff, caught a lot of fish and several different species. The snook and mackerel bite was on fire!! Will fish with Capt Garrett again in the future!
dustin foster
16:35 17 Oct 19
This is an absolute must! Captain Garrett is knowledgeable, very skilled, patient, and kind. He made our experience absolutely wonderful! We didn't come out with a lot of expectations because you never know what to expect out on the water but oh my word, we had a freaking blast!!! We caught such a variety of fish and massive ones at that! We haven't experienced any other charters in the area and let me tell you, we never will because we will be coming back here every time!!!
Ashley Peterson
18:47 04 Oct 19
Amazing time with Patrick and Nate our on the water. They were extremely knowledgeable, accommodating and helpful. We had a blast! Definitely a repeat.
Neil Franzese
14:53 26 Aug 19
What an amazing experience for me and my son. Captain Garrett was simply the best. He put us on fish all afternoon. I lost track of the number of doubles we pulled in! Snook and Snapper all day. We could tell that Garrett genuinely enjoyed watching us have fun and that we did! Definitely going back when we find our way there again. Til next time 🙂
Mike Robinson
09:38 20 Aug 19
Absolutely the best fishing charter ever. Fantastic captain, caught a bunch a great fish. Could not ask for a better time. We will definitely use them again.
Paul Mott
19:12 08 Aug 19
Had a great time with Captain Garrett! He was awesome with my 10 year old son on his first bay fishing experience! Will definitely make it a point to come back and request him again.
Chris Hawkes
01:25 07 Jul 19
Awesome fathers day gift and it was all possible by captain garret knowledge of where to catch fish..landed 5 snook 3 snapper and a jack...he knew the spots and was an awesome captain...future trips out are in the works and will request him again...
Thomas Parker
02:45 17 Jun 19
Great experience with my 10 year old daughter! Captain was great with her and very knowledgeable. These guys definitely are out there working for you! We caught a great selection of fish and shark and enjoyed the clean , modern boat! Highly recommend!
Kevin Zitzow
21:48 27 May 19
Captain Garret was so awesome new exactly what he was doing and got us on the shark. Very patient. made my sons birthday a blast. He was very knowledgeable of the area and fishing. He truly lives to fish.
Aaron Johnson
23:50 30 Apr 19
Captain Matt is AMAZING! I recently had the pleasure of going fishing on the Gulf with some friends and family with Matt as our captain. He was very knowledgeable, helpful and kind. I am a very inexperienced fisher but with his help I was able to catch 5 or more fish all on my own, ranging from Grouper, King Fish and multiple types of Snapper. I would recommend Yachtfish to anyone looking for a trustful captain who will be sure to make your fishing excursion worth while.
Sarah Zavatsky
16:12 29 Apr 19
If I could rate this place 6/5, I would. Captain Garrett took us to some great spots. Caught so many fish, I was worried there wouldn't be enough for everyone else in the bay. If you want a great charter, hit up these dudes. They treat you right and help you reel in the bad boys.
Chris Liddell
18:49 05 Apr 19
Had a great day catching a number of different species of fish. 40 plus in the boat. And missed around 40. Great trip for our 4 teenage boys. Thank you Captain Matt.
Mark Wiersema
21:49 03 Apr 19
Very fun, would definitely recommend it and would definitely consider going again. I caught a bunch of snook and got to hold one. I was shown how to do all of the stuff. And if you want he will do it for you. My captain was Matt he was great and helped with everything. It was overall very fun and I can't wait to go again!
Liam Krass
18:19 03 Apr 19
My son and I had an awesome afternoon with Captain Garrett! He always made sure we had a rod in hand and if he hooked one passed it off to me to catch. We caught about 25 between snook and lady fish with my son catching the most, but I caught the biggest! Highly recommend them and will definitely be back again.
Michele Dhilly
01:15 03 Apr 19
I fish a lot on the East Coast of Florida. I was in town for reggae rise up and found these guys it made my reggae Festival even more epic. I caught over 20 snook in the morning from 18 to 28 inches long. My captain was great!! " Garrett " Born and raised in the area great personality cannot say enough about this young man and his skills.
Albert Steiginga
20:15 18 Mar 19
Captain Matt was great, he's very personable and super willing to educate you on fishing. His boats are well maintained and spotless. His gear is top notch and he works his butt off to get you on fish. I caught about 10 snook plus a grouper and lady fish on my afternoon charter. Highly recommend and I hope to get out with Captain Matt if I ever make it back to St. Petersburg.
Jim Punzenberger
01:12 18 Mar 19
Best day ever! Captain Matt took our crew of 2 adults, 2 teenagers and 2 pre-teens out for the day. He found a perfect spot inshore where we caught a ton of fish and watched the dolphins swim around us. Then we went out into the bay and he landed us another spot with lots of actions. We caught enough fish to feed us all for dinner that night. He even cleaned and filleted them for us. This experience made our trip complete. Would highly recommend Yachtfish for their knowledge and professionalism. Hope to do this again the next time we are in Florida.
Victoria Schultz
13:53 12 Mar 19
Extreamly professional and fun, Captain Matt and crew execute the best fishing experience! The boat is beautiful and the waters are breathtaking. Highly highly recommend !
Welly Juhl
13:16 04 Mar 19
YACHTFISH CHARTERS Fantastic Experience. My son and I went on a six hour charter with Captain Matt ( the owner ) . We landed 5 different species of fish. Matt was very professional and fun to be with . He truly know the waters and fish . Service was fantastic, and he does it in a calm professional manner. We would encourage anyone to use YACHTFISH. Fred Schmidt, Summit N.J.
Fred Schmidt
20:41 01 Mar 19
Fishing with captain Matt was an awesome time. He put us on fish with ease and it was a super chill environment. Had a great time and 10/10 would do it again
Mark Pfeiffer
18:25 25 Feb 19
We went out on 2/17/2019 with Captain Pat. The only thing I could possibly complain about is that it took a full 30 seconds to catch our first fish.......After spending the morning with Captain Pat I feel the next time I fish with him he can improve on that time. THERE WILL BE A NEXT TIME!!! It was an amazing time FULL of catching. We did very little fishing. His awareness of the fishing from the where to, to the how to, is nothing short of amazing. I feel I am an experienced fisherman that can catch fish anywhere, but there is a reason Captain Pat is a professional. The entire staff was professional and courteous, the equipment was top of the line and the overall experience was worth every dollar spent. This will go down as the absolute best family fishing trip we have ever had....It was so full of action that my son and I had the chance to catch two Snook at the same time creating the opportunity for us to take a father son picture and safely release both beautiful fish. Thank you Captain Pat!!!!!!!
James Gazzola
13:27 22 Feb 19
Captain Patrick got us on the fish! An awesome time catching, great company with a personable and knowledgeable guide. Thankful for a great time and will DEFINITELY plan another trip with him!
Mona Tomlin
22:00 27 Jan 19
My wife and I happened across Capt. Matt during our anniversary. Fishing was not on the agenda but we figured we'd splurge on a little private charter. I am a local fisherman and have been fishing the Tampa Bay Area for over 30 years, so I am not the easiest person to please on a fishing trip. Captain Matt's intimate knowledge of the local waters was very evident as it did not take him long to put us on the fish. What was most impressive was his level of attentiveness. He kept our hooks baited and lines in the water at all times. We caught plenty of fish, Matt cleaned them soon as we docked, and enjoyed an awesome fish dinner right at the local restaurant on the dock. Amazing day, awesome experience!!!
Aaron Berry
03:17 17 Jan 19
Captain Matt was great. Left 15 mins before scheduled time, caught plenty of fish (my wife schooled me, hooking up way more often than I did). Thanks for the good time, will be back to schedule a corporate event soon.
Michael Olshove
16:45 03 Jan 19
Captain Garrett was great during our inshore half day fishing trip! He put us on fish right away and by the time the trip was over we caught 70 fish of over 8 different species. We will definitely be back to fish with Captain Garrett again. 5 stars highly recommend!!
Robert Woodworth
17:46 18 Dec 18
Definitely recommended booking these guys. Caught a ton, overall fantastic experience. I should also mention a cold front came in the night before so we didn't have high expectations, however we started hooking up trout within a few minutes of stopping at our first spot. Those that were on the water didn't look to be catching much compared to us. Will definitely book again next time in St Pete.
Gavin Stefanski
19:45 30 Nov 18
Our family had the best time. This was our 1st time ever deep sea fishing. Matt was just great. We had an amazing catch! I definitely recommend YACHTFISH fishing charters! thanks
Robert Anderson
12:45 27 Nov 18
We had the most amazing day fishing with Captain Matt! When we were looking for a fishing trip it was important to us that the entire family could be active and involved in the fishing. The trip did not disappoint in the least!!! There was excitement, tons of laughs, total moments of awe with the nature of the ocean. Our kids woke up the next day ready to go again! We will definitely go again!
Gail Tucker
17:42 20 Nov 18
Our group was in town for business and the snook fishing trip was a great way to cap it off. We caught some big snooks! Everyone had a great experience and plan to do this again next time we are in town for work. The captain was very friendly and knowledgeable. Definitely, recommend this to anyone in town for work or pleasure!
Robert Southerland
04:31 13 Nov 18
Captain Matt was awesome, he was informative on all the questions we had prior and during our adventure. He's a very people person talks like he's known you for a long time, not just another boring captain we have encountered in the past. We will definitely be back again in the future.
Roy Ezell
05:49 04 Nov 18
We had captain Garret (who I just realized was cool enough to let me call him Gary ??‍♀️ Haha) He was the best! He knew great fishing spots and was extremely knowledgeable. The best part was I loved how excited he got about fishing! I'm so happy we got to go out with him he definitely made our trip memorable. If your going to pick a charter this one is more than worth it!
Heather Watland
22:35 29 Oct 18
Captain Matt and team are top notch. They put us on fish all day.Great day on the water.
Joshua Campbell
11:24 26 Oct 18
WOW!!!! This trip was such a thrill. Captain Matt was amazing. He took us quickly out to a great spot and got our poles in the water. We had so much fun catching our limit of some beautiful mackerel and my grandson even caught a shark. This is the first time in my life I have ever walked away from a fishing trip having never baited a hook. Captain Matt took care of everything with such proficiency it was astonishing. I would definitely recommend YACHTFISH Fishing Charters for your group!
Austin Schindler
05:04 25 Oct 18
Wow! Yhatfish did not disappoint. I had so much fun going inshore and offshore fishing with Yhatfish during my stay in St. Petersburg. Matt and crew are very knowledgable, and they provided a safe and fun experience. It was my first time in St. Petersburg, and it was nice to learn about the town and the different types of fish that inhabit the waters there. Whether you want to go with your friends or take your family... I promise you will not be disappointed. You can't step on a Yhatfish charter and not have fun. I still daydream of the fresh tuna we caught. Some of the best I ever had in my life! I promise you will have a good time fishing with Yhatfish! No other charter even compares.
paiton matyas
00:17 15 Oct 18
We highly recommend Yachtfish Fishing Charters. Captain Matt donated a fishing trip to our silent auction and is a constant supporter of our rescue. His fishing trips are always excited and fun. Captain Matt is very knowledge and makes sure everyone has a memorable fishing experience. Mastiff Rescue of Fl ????
Mastiff Rescue of FL
13:28 14 Oct 18
Had the best experience ever!!!! Great time, and they really knew where the fish were! I caught a huge red fish, shark, and some snook! I highly recommend them! Captain Patrick and Nathan rocked!!!! Will do it again very soon 🙂
Jennifer fine
13:06 04 Sep 18
What an amazing experience we had with YACHTFISH Fishing Charters! Captain Matt Douglas made our day a win of epic proportions, we couldn't have asked for any better. We were on a variety fish ALL DAY LONG! We can't wait to do it again, Thank You Very Much!
All Phaze
13:46 18 Aug 18
What Great Trip!- We decided to go on a half day trip in the Bay. Garret, our Captain knew all the local spots. We had experienced and not so experienced friends fishing in our group and everyone caught plenty of fish, it made having fun easy. Garret had us wanting for nothing. I highly recommend this trip.
1st time using Yachtfish as charter. Had a great time in the Bay w/ Captain Garett. Even though the bite was slow, he was knowledgeable with the current area and was able to find a spot to get us a couple of keepers. Highly recommend this charter and Captain Garett.
Robbie Baber
12:58 07 Jul 18
Such a fun day fishing with Capt Garrett and Capt Pat. Had our sons (8 & 10) catching fish within minutes. For our first fishing charter this was very memorable. We cauggt trout, snapper, mackerel, catfish and we even caught 2 sharks!! Capt Pat cleaned and gutted our fish and recommended Frescos (walking distance from the charter) to cook our fish for us; which was a delicious and affordable choice. Thank you for a fun day on the bay!!
Sharon Marsh
23:47 03 Jul 18
Went out with Garett and Patrick and had an amazing time. Great captaining kept us out of the weather and fishing the whole time. We got a couple sharks, one about 100 lbs and a great fight... we also got Mackeral, Snapper, Trout and more on some markers and flats. They know the good spots and how to keep the fish excited and biting. Great experience for the family and delicious meal after at the guys recommended restaurant that cooked our catch perfectly! We are 'hooked'. Thanks!
Matthew Marsh
23:35 03 Jul 18
Best fishing trip ever! We went out with Captain Garrett McFall out of St. Pete FL and had a great time. Our two sons (8 and 9) caught lots of fish and learned a ton about the bay.Don't hesitate to book with Yachtfish, you will have a Blast!
Jess Kroening
20:21 02 Jul 18
What an amazing day out deep sea fishing in St. Petersburg with YACHTFISH Fishing Charters! 6 of us enjoyed the day catching our limit in Snapper. We also caught a variety of other fish, including but not limited to Gag Grouper, Cobia, Black Fin Tuna, and Red Grouper. Captain Matt and his mate Gavon were spot on with everything the whole day, they had every angle covered. They quickly put us on the fish and kept us on them all day long, I've never seen anything like it.The boat (a 33' Invincible) and all the equipment were in immaculate condition and noticeably very well maintained. Seeing that I'm fairly new to deep sea fishing, I had a lot of questions to ask throughout the day as I tried to soak in as much knowledge as possible (imagine Macaulay Culkin in Home Alone). Both Gavon and Matt were very patient with me and the two kids in our group, I was probably more difficult than the kids in reality.After our jam-packed day of fishing, we had the pleasure of going over to Frescos which is within walking distance of YACHTFISH's Slip. While we were enjoying some of the Snapper and Grouper that we caught, which was cooked to perfection by the Frescos kitchen, YACHTFISH cleaned and bagged all our fish for us to fill our freezers with. They even took the time to separate the varieties for us which made it easy dividing it all up.This was truly the best fishing charter experience I have ever had in my life. We can't wait to do it again!!!Thank you VERY much Captain Matt & Gavon, you guys rock!
Scott Foley
23:22 28 Jun 18
Yachtfish is stellar! Captain Matt Douglas is very professional, knowledgeable, courteous and always knows where to find fish. He goes out of his way to ensure that his customers have the very best experience. His boats are ultra clean and modern. We are regular customers and highly recommend him.
Anne Elstun
15:18 25 Jun 18
Where do we even start with reviewing Yacht Fish fishing charters? If you want a full day of fishing, fun and sun don't even think about booking with anybody else. We can't even say enough to describe how amazing of a day we had offshore catching every fish you could even imagine left and right. Our guides Matt and Scotty were beyond helpful and determined to make sure we had a kick ass day out there. Our hooks were tended to before we even had them out of the water if they didn't have a stud of a fish on them. Matt made sure my girlfriends first time offshore fishing was nothing short of perfect and everything a great day of fishing should be. Coming in with a box that barely closed because it was so full was not what we expected but enjoyed every fight and catch. We are officially loyal YachtFish guests and they really made it impossible to compete with their charter.
jeremy onorato
14:37 20 May 18
WOW! What a day! I am a FLNative, but Matt taught me in 4 hours than I thought I knew for 40 years! Super patient w/all my questions and then we caught several snook within the trip. If u get a chance to book YACHTFISH do it immediately, you definitely won't be disappointed!
Guy Henson
21:53 15 May 18
Was invited out with Matt not sure what to expect. The guy crushed it. The Tom Brady of fishing. If you're looking for not only a good fishing experience but a good time, this is your guy. No brainer.
Joshua Reed
18:29 15 May 18
Great fishing experience! Captain Matt is extremely knowledgeable in his trade - thank you for another wonderful day.
I am a local fisherman and went out with Yachtfish this past Sunday. We had a heck of a day and caught Mackerel, Snook and a Monster Redfish (39 inches) . The guides were extremely knowledgeable and put us on fish all afternoon.I highly recommend using Yachtfish for your charter needs.
We had a great time. Our captain was more than we could have asked for and my wife and 7 year old boy had a blast! We will definitely book with Yachtfish again next time we are in Florida!
Matthew Cler
16:23 05 Apr 18
Another phenomenal fishing trip with Captain Matt. Right on every experience. Love his fun and easy going ways. Conscientious kind of Cap Makes everyone feel comfortable and confident.
Teresa Gandeza
13:53 28 Mar 18
I have been on a lot of fishing charters in my day and even have part ownership in a fishing team. The capt and owner both went out of there way to insure we had an amazing day on the water! Got 2 keeper cobia, dozen plus jacks, and even 7 snook! All in a half day trip. These guys know what there doing and put us on the fish from the second we got on the boat! Would highly recommend this company to anyone who is serious about catching fish! Extremely proffessional at every turn! First class company and people ALL THE WAY! CAN'T WAIT TO DO IT AGAIN!
Robert Gerding
14:35 13 Mar 18
Excellent 1/2 day of fishing. The 4 of us caught so many ladyfish and mackerel that we lost count. Capt Garrett had all the bait, equipment and knowledge to make this a great trip!
Joe Picard
13:34 01 Mar 18
January 10, 2018 was my second time out with Captain Matt and Garrett of Yachtfish. First trip was this past June, Tarpon fishing. They are the absolute best. Matt came highly recommended and they has been amazing both times. They work hard to get you on the fish, and it's like a day on the water with a couple of your close friends. We were on the fish from the start this trip and it was non-stop for 4 hours. Trout, Ladyfish and Sheepshead were biting all afternoon long. 2 Sheepshead became dinner about an hour after the trip. Being down in Tampa on business from Michigan in January, this was a well needed afternoon on the water in the sun and 75 degrees. Thx Matt and Garrett! I'll be seeing you soon!
Danny Wiz
02:52 01 Mar 18
Captain Patrick showed us a great time. We laughed and caught fish all afternoon. You can't go wrong with Yachtfish and their great service. This is my second with Matt and his staff, fishing in-shore. Next time will be an off-shore trip.
Phil Muszynski
11:55 25 Feb 18
We had a amazing time today fishing with Captain Garett! We caught red snapper, trout and sheepshead to take home and a bunch of other fish that was fun to catch. Garrett was knowledgeable about the fish and waters. We took my my 82 father out on the water and he had a blast. The boat is perfect! Captain Matt booked my excursion and followed up with me every step of the way. We're fromMichigan and we will be back to book another trip out to the Gulf. Thank you Yacht Fish for making our fishing trip a great memory!
Terri Matheson
02:28 15 Feb 18
My brother and I had an awesome time with Capt Matt his knowledge was awesome and was very fun and professional!! Would recommend YachtFish to anyone and plan on going back in March!!
Charles Calvert
23:10 28 Dec 17
Was a great time! Well worth the money. Great guys to fish with.
Karie Simons
18:51 27 Dec 17
As an ex- charter boat owner and operator from Broome Western Australia, I expect a lot. And when you have the bar raised this high you tend to be disappointed in how other operators treat you and run their operations. We'll I was pleasantly surprised that was not the case with Captain Matt and his crew. Their level of local knowledge and experience was comforting and ensured me I'd made a the right decision when I chose to go with Yacht Fish Charters. They know their stuff and will put you on the fish. RickyD
Rick Dalla Rosa
22:25 30 Nov 17
Matt does a great job. We got to catch a lot of snook, lady fish and trout. As a bonus got to see and swim with the manatees. Thanks for the great adventure!
Matt Foster
17:30 28 Nov 17
My first time and I have to say it won't be my last! This trip was an awesome experience and we were on fish the entire time! I can't wait to come back! I want to thank captain Matt and Garrett for their great service!
Joshua Weller
16:18 22 Nov 17
Matt and Garrett were fantastic! We had three kids with us and they were very attentive to them yet still allowed them to do as much as possible for the full experience. We would definitely recommend them to anyone! Thanks guys!
Kia Robinson
02:25 13 Nov 17
First time fishing for family. They LOVED it! Garret and Patrick were awesome and took us to all the best spots! Highly recommend!
Raj Ambay
02:00 22 Oct 17
Highly recommend. Capt. Matt was excellent. He was patient with myself as a new fisherman, energetic, and very knowledgeable about his fishing spots!My wife, son, and I were impressed with his friendliness, ability to take us to several very active fishing spots, and his real sense of customer service. His boat was immaculately clean, as was he and his assistant. They didn't use foul language, drink, or in any other way act as "old fishermen" may tend to be regarded.Without a doubt, it was a great experience and well worth the money. I would recommend Yachtfish to anyone from the novice to the experienced. I garenteed you will enjoy yourself, and learn a lot.
John Mitchell
20:54 29 Sep 17
Best charter I have ever been on. We went out for 4hrs this morning and they had us on the fish in less than 20 minutes and were on them the whole time. In about 3 hours my father in law and i caught about 50 snook, 2 mangrove snappers, and 3 nice reds. Great experience all around.
Jakob Howell
22:13 27 Sep 17
Unbelievable! In under 2 hours, with my daughter (10) and I we caught 4 snapper, 5 mackerel, a pin fish, and 14 sharks! Captain Matt did an outandting job taking us to the right areas, and make every step of the day easy and fun. Beautiful boat with top notch equipment. Highly recommended for any day trip fishers.
Andrew Padovano
02:12 30 Aug 17
Great time, hands down! Matt and Garett are great guys and know their hometown waters beyond expectations. They took us to all the spots and we were hitting all day. I was skeptical at first with all the charters in the area, but these guys know their waters. Would recommend them to anyone!
David Meyers
22:37 15 Aug 17
Matt did an awesome job putting us on fish. The boat had a really smooth ride and both Captain and Mate Garrett were very professional and fun to fish with. We will definitely go again.
sean hyer
17:46 07 Aug 17
Capt. Matt Douglas always puts us on the fish every time with the best equipment and highest quality boats and is one of the most professional and prepared charter captains in the business today. I would highly recommend Capt. Douglas for either inshore, Tarpon, or offshore fishing for any species you prefer to target if you want to catch 'em.
James Newton
18:03 31 Jul 17
Been fortunate enough to charter Matt Douglas at Yachtfish on several occasions. Every trip was fantastic and very productive....Matt always puts us on fish. The Yachtfish team is very courteous and professional. They can help any level fisherman catch fish and have an enjoyable and safe time on the water.
My nephew and his fiancé came down for a long weekend and had booked fishing trip with Captain Matt. It was my first experience, my nephew had done this before somewhere else. We had a fabulous time caught snook and trout, tried for tarpon but no luck. The entire day was a great experience. All three of us can't wait to go back. Captain Matt and his mate Garret were so helpful and attentive to our experience. If we had questions they were so willing answer and help. Will definitely go again and share with friends and highly recommend.Colleen Farmer.
colleen-dave farmer
02:54 22 Jul 17
First time ever fishing with Yachtfish this past Saturday and it was a day to remember catching my first Tarpon. Captain Matt and Garrett were great. They worked hard to try and find the fish in different locations and with different bait. Patience paid off as I landed my first ever Tarpon on one of the most beautiful days I have ever had on the water. Captain Matt came highly recommended and he did not disappoint. My only problem is trying to figure out when I can get down to Tampa and get out fishing with them again. I can honestly say I am addicted to Tarpon fishing after only one time. Thank you Matt & Garrett!!!
Daniel Wisniewski Jr
18:39 19 Jun 17
went out with Matt on 5/23/2017.The weather did not look to good, waves in the 6ft. range, but Matt. found a little calmer water with fish. Then we started to catch fish, one a 90lb. Tarpon , witch is what we came for.This trip ended up great, when it seems to start off rough, Matt. and the mate did a great job. Going to try to make it back soon.
Richard Golembeski
23:48 06 Jun 17
Great time. Lots of fish. Took my girls & wife. Recommend for the family. Matt has great patience, the fire extinguisher went off, wife's fishing line in trolling motor and Captain Matt didn't bat an eye, just kept right on guiding. His first mate Scotty was great as well, never had an empty hook. We will definitely be hiring them again!
Quinn Capps
19:20 14 May 17
My friend Robin and I were fortunate to spend a glorious morning in the bay with Matt and Garrett. I would describe our fishing knowledge of this area as novice. Matt put us on fish quickly and we did catch some nice looking kingfish. The boat is immaculate and the gear was in great shape. We could not have asked for a better experience. Thanks again Matt!?
Michelle Seybold
13:14 01 Apr 17
Capt Matt is amazing inshore as well as going offshore. We have never been disappointed in our many trips with him. He always seems to work hard for his customer. That shows because we always have the best live bait, and he knows where to use it. Great with younger fisherman as well, and so I highly recommend him for anyone looking for a great fishing trip on or around Tampa Bay.
Jim Thompson
17:59 25 Mar 17
I have been on a private charter before, but Yachtfish is hands down the BEST! I had the best experience with Captain Matt. I went offshore for the first time with Captain Matt and Garrett few weeks ago with my daughter. They are both very experienced and professional. They both were so wonderful with my daughter, teaching her the different types of fish. This was her first time fishing, and they both were very patient with her. She caught four fish in about 10 minutes. She was so excited and can't wait to go again. I will be taking my dad out for Father's Day! Such a great way to spend time with family! Thank You Captain Matt and Garrett, for such an amazing day!
Jennalee Matays
20:24 24 Mar 17
Three Convenient Locations to Better Serve You
Located at the
St Petersburg Municipal Marina

YACHTFISH Fishing Charters is perfectly located at the downtown St. Petersburg Municipal Marina, which is smack dab in the middle of the Tampa Bay area on the west coast of Florida. No matter which direction you take from the marina for your private inshore or deep-sea fishing charter, you'll be surrounded by some of the top fishing spots in Florida and great scenery.
When you leave the marina, you will have a chance to see the famous Sunshine Skyway Bridge, Fort Desoto Park, Weedon Island Preserve and Egmont Key. If you're lucky, you will also enjoy the pods of dolphin, manatees and other wildlife indigenous to the area.
As a bonus, you will be able to visit some of the famous landmarks and attractions from your pick-up point at the marina. The new St. Petersburg Pier, Straub Park, Dali Museum, Museum of Fine Arts, St. Petersburg Museum of History and the Vinoy Hotel & Vinoy Park are within sight and walking distance. The waterfront is full of shops, galleries, bars and restaurants. Fresco's Waterfront Bistro is right next to YACHTFISH in the marina and caters to YACHTFISH Guests by cooking their catch and providing a relaxing waterside venue after a successful day fishing.
If you're in the mood for more fun before or after your Tampa Bay fishing charter, try an excursion to The Seminole Hard Rock Hotel and Casino in Tampa for a little excitement. If beautiful beaches are more your style, Clearwater beach and St. Pete beach are consistently ranked as two of the top-rated beaches in the country. The popular TradeWinds Island Grand Resort and legendary Don CeSar Hotel, both located on the soft white sands of award-winning St. Pete Beach, are only 10-15 minutes from the Marina.
Tampa International Airport and the St. Pete-Clearwater International Airport are minutes away and serve the area with ease of access and excellent travel options.
If you live in, or are visiting the Tampa, St. Petersburg or Clearwater area, you've come to the right place for the best fishing charters near you. YACHTFISH is the top-rated fishing charter company in the area with a fleet of boats to meet any angler's demands and the reviews to prove it. With quick access to Tampa Bay and the Gulf of Mexico, you will put plenty of fish in the boat every time. We guarantee it!
Located at the
Blind Pass Marina in St Pete Beach

YACHTFISH Fishing Charters in St Pete Beach is conveniently located at the Blind Pass Marina on Florida's Intracoastal Waterway, offering quick access to unbelievable year-round inshore, nearshore and offshore fishing spots. Whether you go north and fish the Gulf beaches and inshore bays of Treasure Island, Madeira Beach, Indian Shores, and Indian Rocks Beach, or travel south to visit the fishing hot spots of Pass-a-Grille Beach, Fort Desoto Park, and Egmont Key, we have you covered. Your private YACHTFISH St. Pete Beach fishing charter will be one to remember with line screaming off your reel and guaranteed fish every time. Upon returning to port, your tournament-winning YACHTFISH Captain will be cleaning your fish. The famous Sea Hags Bar & Grill is a few steps from the boat slip and they can cook your fresh catch while you're enjoying the marina's beautiful water view. Now that is what's called BOAT to TABLE, the freshest fish you'll ever eat!
If you're looking for activities to enjoy before or after your St. Pete Beach fishing charter, you're in luck. Not only is St. Pete Beach a perennial award-winning beach, but there are numerous activities in and around St. Pete Beach to experience. The Shell Key Shuttle eco-tour to unspoiled Shell Key, a small barrier island just south of Pass-a-Grille, is only a 10-minute boat ride. Shell Key provides some of the best shelling & birding on the Gulf Coast along with sunbathing, swimming and dolphin watching. Shell Key kayak tours are also a good bet for exploring the surrounding area. For a little history of the local beaches, visit the Gulf Beaches Historical Museum in the National Historic District of Pass-a-Grille. If you're up for a little shopping, visit John's Pass Village & Boardwalk in nearby Madeira Beach. And don't forget about the world-famous Don CeSar hotel for a few nights, or simply a sunset, dinner, and drinks on beautiful St. Pete Beach.
Tampa International Airport and the St. Pete-Clearwater International Airport are a short ride away and serve the area with excellent travel options.
If you live in, or are visiting St Pete Beach, you've come to the right place for the best St Pete Beach fishing charters near you. YACHTFISH is the top-rated fishing charter company in the area with a fleet of boats to meet any angler's demands and the reviews to prove it. With quick access to the Intracoastal Waterway, Tampa Bay and the Gulf of Mexico, you'll put fish in the cooler every time. We guarantee it!
Located in
Clearwater Beach

YACHTFISH Fishing Charters is located in Clearwater Beach amongst some of Florida's finest nature spots, beaches and cultural districts.
Just a 5-minute drive from downtown Clearwater, you can reach us easily with a short crossing over Clearwater Memorial Causeway and we are just north of St. Petersburg Beach.
Then we're just a 3-minute walk from Clearwater Beach – one of the best-rated beaches in the US! With pristine white sand, this beach also has a great choice of jet-skiing, paddle boarding, parasailing and seafood restaurants to die for.
Clearwater beach is also situated between some of the best nature parks in Florida – with Caladesi Island State Park to the north and Sand Key Park to the south. Here, you may see wild seabirds, dolphins, manatees and other indigenous wildlife!
Caladesi is an obvious choice for visitors who enjoy hiking, biking, kayaking, and other adventurous outdoor activities! For the calmer types, Sand Key park is a stunning location for picnics, family walks, playgrounds, boardwalks and bird watching.
Wildlife fans can enjoy the nearby Clearwater marine aquarium, which is a 501 non-profit organization dedicated to the rescue and rehabilitation of sick and injured marine life.
Clearwater meets the stereotype for Florida weather, with beautiful and pleasant sun all year round! Winter highs are in the mild mid-seventies with the Gulf's gentle breezes adding the final touch.
The crystal waters are also nearby to hot spots for entertainment and hospitality – with a large selection of stunning restaurants and mouth-watering seafood. There's also accommodations to fit any budget, from five-star beachfront resorts and old-Florida-style motels to affordable hotels off the beaten path.
If that's not enough, Clearwater also has a packed calendar year round. Sports, music and food events are seen every week here, but you can also enjoy beautiful sunsets that provide the backdrop to Pier 60's vibrant festival.
Every last Friday of the month see's downtown Clearwater's streets lined with vendors and entertainment, making it a place full of life! Don't forget baseball's Philadelphia Phillies' training camp every spring and the Clearwater Jazz Holiday and Outback Bowl Beach Day!
Tampa International Airport and the St. Pete-Clearwater International Airport are a short drive away and make distant travel a breeze. If you want sun, fun and beaches that are the envy of the world – look no further!
SNOOK ARE ON FIRE INSHORE! TRY A COOL EVENING TRIP. CALL TODAY: (727) 433-4200
HUNGRY GROUPER AND SNAPPER OFFSHORE! BOOK YOUR TRIP TODAY AND FILL UP THE COOLER.
YACHTFISH Fishing Reports
Check out what we've been up to
[/vc_column]