Welcome to YACHTFISH Fishing Charters
Enjoy your St. Petersburg, St. Pete Beach,Tampa Bay and Clearwater Fishing Charters with YACHTFISH today
---
The Tampa Bay area includes Tampa, St. Petersburg, St. Pete Beach and Clearwater, Florida and is the year-round home to one of the best inshore and deep-sea fishing destinations in the country. The 3,190-acre Weedon Island preserve on the west side of Tampa Bay is an aquatic upland ecosystem supporting a diverse population of bird rookeries and animals. It also happens to be the spawning grounds for many of the fish found in Tampa Bay and the Gulf of Mexico.
Whether you're looking for Tampa Bay, Clearwater , St. Pete Beach or St. Petersburg Fishing Charters, YACHTFISH has you covered for inshore and deep-sea fishing options. You'll find snook, redfish, trout, mackerel, snapper, flounder, cobia, tarpon, tuna, amberjack, grouper, kingfish, wahoo, mahi and more. With over 30 years of experience and the equipment to get you on the fish fast, your YACHTFISH team guarantees an incredible experience and fish every time.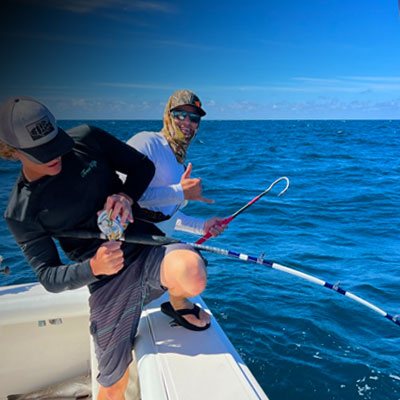 We are St Petersburg's
TOP RATED Fishing Charter!
G

O

O

G

L

E

REVIEWS from our happy Guests
Four Convenient Locations to Better Serve You
Located at the
St Petersburg Municipal Marina
YACHTFISH Fishing Charters is perfectly located at the downtown St. Petersburg Municipal Marina, which is smack dab in the middle of the Tampa Bay area on the west coast of Florida. No matter which direction you take from the marina for your private inshore or deep-sea fishing charter, you'll be surrounded by some of the top fishing spots in Florida and great scenery.
When you leave the marina, you will have a chance to see the famous Sunshine Skyway Bridge, Fort Desoto Park, Weedon Island Preserve and Egmont Key. If you're lucky, you will also enjoy the pods of dolphin, manatees and other wildlife indigenous to the area.
As a bonus, you will be able to visit some of the famous landmarks and attractions from your pick-up point at the marina. The new St. Petersburg Pier, Straub Park, Dali Museum, Museum of Fine Arts, St. Petersburg Museum of History and the Vinoy Hotel & Vinoy Park are within sight and walking distance. The waterfront is full of shops, galleries, bars and restaurants. Fresco's Waterfront Bistro is right next to YACHTFISH in the marina and caters to YACHTFISH Guests by cooking their catch and providing a relaxing waterside venue after a successful day fishing.
If you're in the mood for more fun before or after your Tampa Bay fishing charter, try an excursion to The Seminole Hard Rock Hotel and Casino in Tampa for a little excitement. If beautiful beaches are more your style, Clearwater beach and St. Pete beach are consistently ranked as two of the top-rated beaches in the country. The popular TradeWinds Island Grand Resort and legendary Don CeSar Hotel, both located on the soft white sands of award-winning St. Pete Beach, are only 10-15 minutes from the Marina.
Tampa International Airport and the St. Pete-Clearwater International Airport are minutes away and serve the area with ease of access and excellent travel options.
If you live in, or are visiting the Tampa, St. Petersburg or Clearwater area, you've come to the right place for the best fishing charters near you. YACHTFISH is the top-rated fishing charter company in the area with a fleet of boats to meet any angler's demands and the reviews to prove it. With quick access to Tampa Bay and the Gulf of Mexico, you will put plenty of fish in the boat every time. We guarantee it!
Located at the
Blind Pass Marina in St Pete Beach
YACHTFISH Fishing Charters in St Pete Beach is conveniently located at the Blind Pass Marina on Florida's Intracoastal Waterway, offering quick access to unbelievable year-round inshore, nearshore and offshore fishing spots. Whether you go north and fish the Gulf beaches and inshore bays of Treasure Island, Madeira Beach, Indian Shores, and Indian Rocks Beach, or travel south to visit the fishing hot spots of Pass-a-Grille Beach, Fort Desoto Park, and Egmont Key, we have you covered. Your private YACHTFISH St. Pete Beach fishing charter will be one to remember with line screaming off your reel and guaranteed fish every time. Upon returning to port, your tournament-winning YACHTFISH Captain will be cleaning your fish. The famous Sea Hags Bar & Grill is a few steps from the boat slip and they can cook your fresh catch while you're enjoying the marina's beautiful water view. Now that is what's called BOAT to TABLE, the freshest fish you'll ever eat!
If you're looking for activities to enjoy before or after your St. Pete Beach fishing charter, you're in luck. Not only is St. Pete Beach a perennial award-winning beach, but there are numerous activities in and around St. Pete Beach to experience. The Shell Key Shuttle eco-tour to unspoiled Shell Key, a small barrier island just south of Pass-a-Grille, is only a 10-minute boat ride. Shell Key provides some of the best shelling & birding on the Gulf Coast along with sunbathing, swimming and dolphin watching. Shell Key kayak tours are also a good bet for exploring the surrounding area. For a little history of the local beaches, visit the Gulf Beaches Historical Museum in the National Historic District of Pass-a-Grille. If you're up for a little shopping, visit John's Pass Village & Boardwalk in nearby Madeira Beach. And don't forget about the world-famous Don CeSar hotel for a few nights, or simply a sunset, dinner, and drinks on beautiful St. Pete Beach.
Tampa International Airport and the St. Pete-Clearwater International Airport are a short ride away and serve the area with excellent travel options.
If you live in, or are visiting St Pete Beach, you've come to the right place for the best St Pete Beach fishing charters near you. YACHTFISH is the top-rated fishing charter company in the area with a fleet of boats to meet any angler's demands and the reviews to prove it. With quick access to the Intracoastal Waterway, Tampa Bay and the Gulf of Mexico, you'll put fish in the cooler every time. We guarantee it!
Located in
Clearwater Beach
YACHTFISH Fishing Charters is located in Clearwater Beach amongst some of Florida's finest nature spots, beaches and cultural districts.
Just a 5-minute drive from downtown Clearwater, you can reach us easily with a short crossing over Clearwater Memorial Causeway and we are just north of St. Petersburg Beach.
Then we're just a 3-minute walk from Clearwater Beach – one of the best-rated beaches in the US! With pristine white sand, this beach also has a great choice of jet-skiing, paddle boarding, parasailing and seafood restaurants to die for.
Clearwater beach is also situated between some of the best nature parks in Florida – with Caladesi Island State Park to the north and Sand Key Park to the south. Here, you may see wild seabirds, dolphins, manatees and other indigenous wildlife!
Caladesi is an obvious choice for visitors who enjoy hiking, biking, kayaking, and other adventurous outdoor activities! For the calmer types, Sand Key park is a stunning location for picnics, family walks, playgrounds, boardwalks and bird watching.
Wildlife fans can enjoy the nearby Clearwater marine aquarium, which is a 501 non-profit organization dedicated to the rescue and rehabilitation of sick and injured marine life.
Clearwater meets the stereotype for Florida weather, with beautiful and pleasant sun all year round! Winter highs are in the mild mid-seventies with the Gulf's gentle breezes adding the final touch.
The crystal waters are also nearby to hot spots for entertainment and hospitality – with a large selection of stunning restaurants and mouth-watering seafood. There's also accommodations to fit any budget, from five-star beachfront resorts and old-Florida-style motels to affordable hotels off the beaten path.
If that's not enough, Clearwater also has a packed calendar year round. Sports, music and food events are seen every week here, but you can also enjoy beautiful sunsets that provide the backdrop to Pier 60's vibrant festival.
Every last Friday of the month see's downtown Clearwater's streets lined with vendors and entertainment, making it a place full of life! Don't forget baseball's Philadelphia Phillies' training camp every spring and the Clearwater Jazz Holiday and Outback Bowl Beach Day!
Tampa International Airport and the St. Pete-Clearwater International Airport are a short drive away and make distant travel a breeze. If you want sun, fun and beaches that are the envy of the world – look no further!
Located at Tampa's Gandy Boat Ramp
We now have the perfect location in Hillsborough county at the Gandy Boat Ramp. So why is YACHTFISH becoming a household name in the sunshine state and the Tampa area? Because we deliver the finest boating services area!!!
We offer Tampa Bay's most adventurous manatee tours, dolphin tours, and booze cruises. And we have several locations throughout Florida for your convenience, including the Gandy Boat Ramp, Clearwater, St. Pete Beach, and St. Petersburg Municipal Area. The amenities at Gandy Boat Ramp include a boat dock, boat ramp, and restrooms.
Gandy Boat Ramp is the most popular public boat ramp in Hillsborough County, offering easy access to the heart of Tampa Bay. The Gandy ramp entails six large lanes and yields over 100 parking spots!
Tampa Bay has a dazzling arts and culture scene. Much like the sunshine, it's abundant and available all year. The creative expression of Tampa Bay is celebrated in individualism, murals, and art installations throughout the city. Tampa's Division of Arts & Cultural Affairs commissions artists to create work that humanizes the city space and energizes the public.
Tampa Bay is home to some of Florida's best natural surroundings for outdoor activities and ecotourism. Anyone who loves the outdoors or is a wildlife enthusiast will appreciate Tampa. Tampa Bay offers easy access to rivers, the Bay, and all of Florida's wetlands, nature preserves, and more.
From Tampa Bay, you can easily access manatee and dolphin observation spots. We offer the most exciting and highest-rated dolphin and manatee tours in the Bay area! Manatees are magnificent creatures who only make seasonal appearances, so catching sight of them is a real treat. If you prefer something more hands-on or are an avid fishing sportsman, we offer fishing excursions with guaranteed fresh catch. You might catch one of the various species like Grouper, Barracuda, Mackerel, Tarpon, and more.
Tampa is one of the country's top destinations for all boating activities and truly offers endless enjoyment for people of all ages. It's a place where you feel one with nature. The boating community in Tampa bay is like no other place in the world. That's why we've turned our passion for boating into a service for your entertainment and enjoyment.
When you choose a Tampa dolphin tour, Tampa manatee tour, or Tampa booze cruise, you'll experience miles of stunning views and shorelines of the Gandy Bay Ramp.
Florida's weather is arguably its most charming feat. People flock here from colder places to travel, retire and have fun in the sun. The average temperature year-round ranges from 52-90; talk about a sweet spot. You will never get cold in Tampa – the coldest you'll get is the drink in your hand. You will only need a light sweater and pants if the temperatures drop.
Our Gandy boat ramp location is surrounded by exquisite restaurants offering some of Florida's top-rated victuals and libations. Mr. & Mrs. Crab, Salt Shack on the Bay, Hula Bay Club, and Green Iguana Bar & Grill are nearby options where the seafood is as fresh as it gets! And there is so much more! Some nearby attractions you should visit include: Ballast Point Park, The Florida Aquarium, and Gandy Beach Mangroves.
Tampa has something to offer everyone, whether you're a local or a tourist. The Tampa International Airport and the St. Pete-Clearwater International Airport are near, making your travels laid-back and easy. So if you're ready to unlock the heart of Florida's gulf coast, come and experience the Tampa Bay Effect! We love Tampa as much as you do because we get the best of both worlds: the perks of a metropolitan area with never-ending vacation vibes.
HUNGRY GROUPER AND SNAPPER OFFSHORE! BOOK YOUR TRIP TODAY AND FILL UP THE COOLER
SNOOK ARE ON FIRE INSHORE! TRY A COOL EVENING TRIP. CALL TODAY: (727) 433-4200
HUNGRY GROUPER & SNAPPER OFFSHORE!
SNOOK ARE ON FIRE INSHORE!
YACHTFISH Fishing Reports
Check out what we've been up to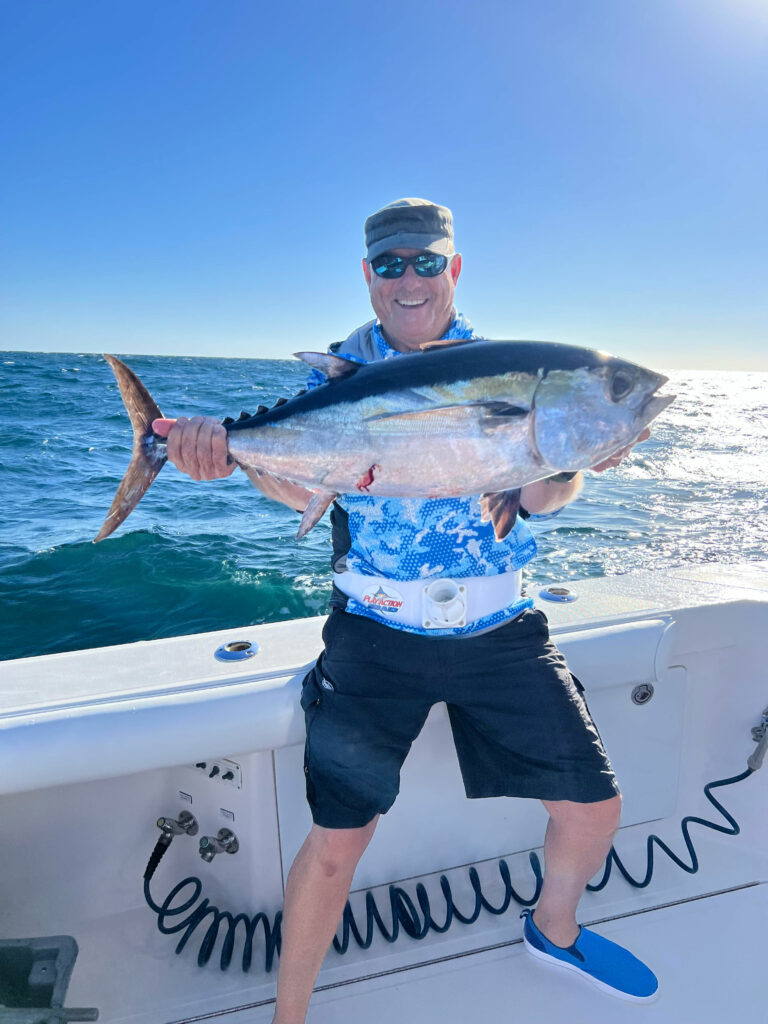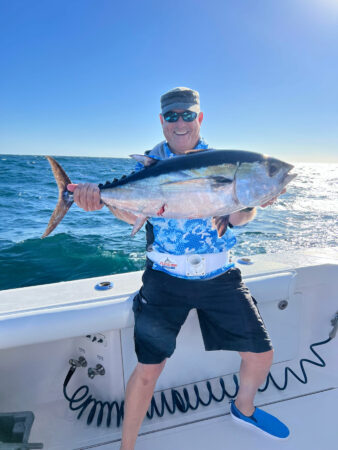 Choose the best fishing charter in St. Petersburg, Florida that will tailor a private charter to meet your individual needs.