Summer in St. Pete Beach is off to a great start, with people from near and far arriving to experience the adrenaline rush of shark fishing out on the open waters. With COVID lockdown taking its toll on us all, the promise of fresh ocean air and a private chartered boat is proving popular for a safe and refreshing escape for all ages!
"We Literally Had the Time of Our Lives Catching Sharks!"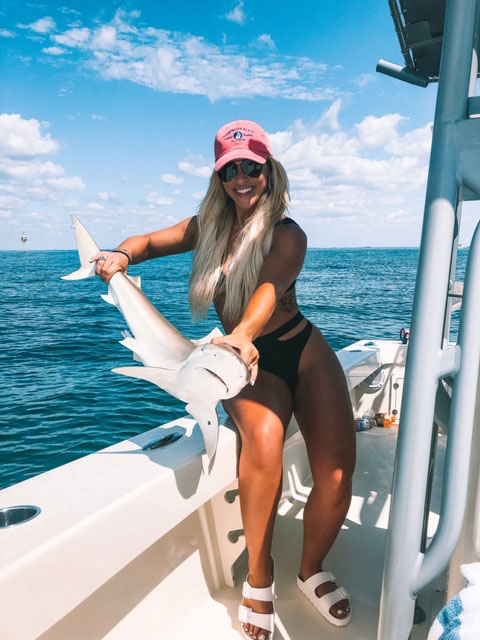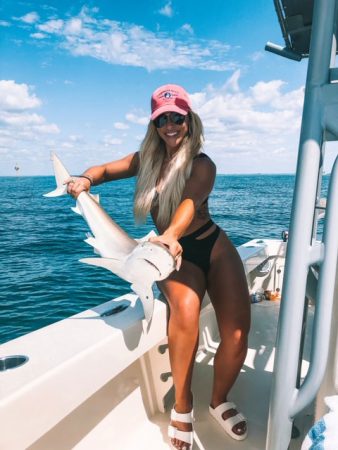 One of our latest customers was fitness coach and popular influencer, Rachelle Justus. Like the rest of us, she was desperate for a getaway and hit Florida looking to let loose.
She said, "Had the best experience ever yesterday with @yachtfish We went into this trip expecting to catch some cool fish to eat & instead we literally had the time of our lives catching sharks!"
She's a great example of how we help all skill levels experience exhilarating fishing trips, "I'm not a reel expert, but I can tackle anything ???. " Regardless of your knowledge of shark fishing, we'll tailor your trip just for you. Whether it's your first time or you're a seasoned shark hunter – we guarantee you'll get a catch and have the time of your life!
She didn't get her hands on the legendary Hammerhead Old Hitler, but she was one of many recent customers to go home with a photo that she can show off for the rest of her life. Yes, that's Rachelle holding her impressive shark catch!
"Such a blast!! ???? Didn't expect this to happen but the sharks are safe back in the water".
A Safe Getaway in St Pete Beach
Rachelle put it best when she said, "You can't pour from an empty cup." We need life to energize us sometimes and that's true now more than ever. Just like her, others are getting their summer off to a flyer by filling their lungs with fresh ocean air and experiencing life to the max.
"I had the best little trip. I let loose, didn't work too much, and just enjoyed every second here. You can't pour from an empty cup. I feel so refreshed and ready to bring my A game back to my clients, work, and Instagram."
Many people in St Pete Beach are questioning whether it's safe to get out of the house right now. Our trips have always been state-of-the-art private boats, restricted to your own private group – not 50-100 people all crammed on one vessel. There are few other experiences you could undergo right now than shark fishing in St Pete Beach, with such safety.
Shark Fishing in St Pete Beach, Florida
Spaces for this summer's shark fishing charters in St Pete Beach are going fast! If you want to experience the same exciting, live affirming memories that Rachelle did, contact us today to book your private chartered boat. With Captain Matt Douglas at your side, he'll safely give you the experience of a lifetime for 4-6 hours. We guarantee you'll make a catch!