It's nearly August and that means the Tarpon bite is still hot in St Pete Beach! Many clients have been out on the boat recently, experiencing the thrill of Tarpon fishing – some say it's as good as Boca Grande and without the added pressure of a flood of boats all trying to catch the same fish. We recommend booking a Tarpon fishing charter in St Pete Beach as soon as possible, as these tides don't last all month.
With the water crystal clear, the Tarpon in St Pete Beach are thick in the passes. We've noticed them swimming in large spread-out schools that stretch up to a mile long! All we have to do is drift right in the middle. It's a great sight, with fish swimming all around. Where you cast is up to you! That's the challenge. You cast off to the port side, and maybe you'll see the fish shoot past the other side. Don't sweat it though, head out with us and we guarantee you'll get a catch.
Action Packed Tarpon Fishing Charters
in St Pete Beach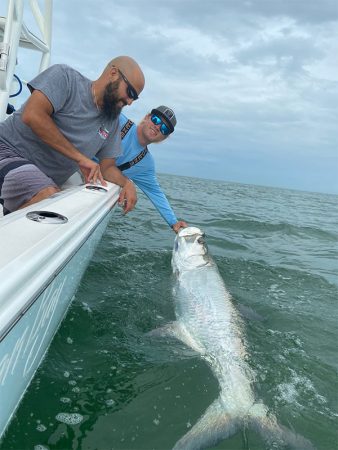 If you want to catch a big, beautiful Tarpon in St Pete Beach, then August is the time to do it! Around this time of year, the fish quality seriously improves too. With the water so hot, they have more to eat every day to stay big and healthy. From experience, we know when the full moon arrives at the start of August, it's also the perfect time for fishing resident Tarpon that go for fly, live or artificial bait. Late in August can be great too, with far less competition from other boats on the water.
Stunning Tarpon Air Shows
It never gets old seeing a shiny, six-foot, 80lb+ Tarpon in St Pete beach soaring alongside you. Tarpon are known for being strong fighters and will make you work once you hook up. They put on stunning air shows, jumping in the air, even doing flips. They'll also make massive dives and violent head shakes. Although we love to land the fish quickly, we've experienced fights with Tarpon in St Pete Beach that have lasted as long as one hour.
Action-packed. Exhilarating. Clean air.
Safe & Private Fishing Charters During COVID-19
Naturally, many of our clients have had apprehensions about heading out during this pandemic. We're lucky enough to be offering one of the safest activities for Florida residents. While fishing for Tarpon in St Peach Beach, you'll be breathing in nothing but fresh, salty ocean air. It's a great trip for anyone who's sick of being locked up inside or just wants an escape for a few hours from the sight of masks and hand sanitizer.
Tarpon Fishing Charters in St Pete Beach and Tampa Bay
If you want to experience the rush of seeing majestic Tarpon bite up close, then book a tarpon charter trip with YACHTFISH as soon as possible. With the demand so high, the spaces in August always get booked fast, so don't miss the boat, book your Tarpon fishing charter today!