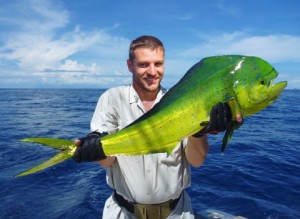 If you've never gone deep sea fishing, it's time to try it!
Deep sea fishing is unlike anything you've ever experienced before, and if you've never had a chance to experience it, it's time that you do! If you are a fishing enthusiast, you'll be glad to know that our deep sea charters allow you to experience your favorite past time like never before. The following is a list of just a few of the many reasons why you should try deep sea fishing:
#1. New Techniques
Even the most experienced fresh-water anglers have to learn new things in order to become effective deep sea fishermen or women. Deep sea fishing is wildly different than freshwater fishing, and it takes a new skill set. If you love learning new things and you have a passion for fishing, you'll love deep sea fishing.
#2. New Fish
The game that is available to you on our deep sea charters isn't like anything you've experienced with freshwater fishing. For one thing, deep sea fish tend to be a lot bigger than freshwater fish. When you fish with us, you'll even have the chance to catch the Goliath Grouper, which grow up to eight feet long and can weigh as much as 800 pounds!
#3. New Challenges
Fishing, much like any sport, is much more fun when there is a bit of a challenge involved. But when you fish the same old spots over and over again, the challenge starts to fade. Luckily, deep sea fishing gives you a whole new challenge to conquer!
Book your deep sea charter in Tampa today to experience the wonders of deep sea fishing for yourself!